The definitive ranked list of the best 3D board games. Yes, most board games are 3D. Pieces that are more than a piece of paper are in a multi-dimensional space. That is not what this is, this list are board games that use three dimensional space. Maybe this is movement on different plains or maybe it is puzzle that will make your mind itch, but they are all titles that try to break your understanding of space. These are the top 10 best 3D board games.
---
#10 | Jenga
Jenga makes the list of the best 3D board games because it is the block building game standard that has stood the test of time after releasing in 1983. Like Kleenex, Jenga culturally owns the brand. People don't call it "tumble block" they call it Jenga. When you think of dexterity tabletop games and using the precision of your body, this is the type of game that probably comes to mind. A mastery of space and balance is necessary.
Players' turns consist of taking one and only one block from any story, except the completed top story, of the tower at the time of the turn, and placing it on the topmost story in order to complete it. The tower will get increasingly unstable and have less viable options to pull as the game goes on. The player that knocks over the tower, loses the game. For 1 – 8 players (in teams), games run about 20 minutes.
---
#09 | Project L
Project L makes the list of the best 3D board games because this is a fast-paced, tile-matching brain burner with triple-layer 3D puzzles and lovely acrylic pieces. There is just enough of a hook to turn things on their head and classify this a master of 3 dimensionality. For as simple as it is, it is surprising at how unique it is with no one else delivering anything quite like it.
Players will need to use their pieces to complete puzzles. Starting with just two basic pieces, you use three actions every turn to develop a powerful engine. With more pieces of various types, you can efficiently complete even the most difficult puzzles. The puzzles you complete award you points or new pieces to further fuel your engine. The right combination will outsmart your opponent and kick you a notch ahead. For 1 – 4 players, games run 20 – 40 minutes.
---
#08 | Cloud City
Cloud City makes the list of the best 3D board games because it involves you building into the sky where you need to think about linear paths, but then you also need to worry about what is above and below them. You are trying to create sky bridges across two like building types, but if a higher structure is in the way, you could be out of luck. This is an abstract strategy puzzler, which is a great use of the space.
Players compete against other architects to create the best city planning project to be chosen by the city council. Each player has their own model to win, the more complex paths in the sky you can form from your strategic tiles placing, the more points you will get. You draft tiles into your own 9×9 grid and build the structures in the spots it tells you, either small, medium or large. Your need to interweave and connect everything so paths can cleanly cross. For 2 – 4 players, games last 30 – 60 minutes.
---
#07 | Kodama 3D
Kodama 3D makes the list of the best 3D board games because it takes the original Kodama and adds a cool 3D spin to it. You build up your tree with branches you pick up and everything connects to one another in interesting ways. It is a bunch of strategy with a touch of dexterity mixed up into a fun time.
Players will grow trees in three-dimensional space. Players move their kodama pieces around a 4×4 grid of branch tiles in order to pick the branches they want to add to their tree. When a player adds a branch to their tree that doesn't match what it is touching, they choose a goal card from the ones available. After all players have placed 12 branches on their tree, players score all of their goal cards. The player with the most points wins.
---
#06 | Ctrl
Ctrl makes the list of the best 3d board games because it is the epitome of what a board game would be if you wanted to turn the idea of the classic Rubik's cube into a board game form. It is a puzzler that is challenging and at times aggressive because it takes you out of the standard 2-dimensional space.
Players try to dominate a cube by crawling over it with their colored bricks, preferably covering other players' bricks along the way. Your 3 block path can go in any direction, but you need to be strategic to make sure you end with the most blocks showing on all the sides of this 3D cube. For 2 – 4 players, games run approximately 20 minutes.
---
---
#05 | ShipShape
ShipShape makes the list of the best 3D board games because of how masterfully it uses stacked space. There is a central trick taking or drafting component (depending on how you look at it) but then the 3d comes in by stacking tiles and trying to reveal the right mixture of things showing when you look from above down into it. Not only do you need to think of the plain of the tile, but you need to think about what is above and below it.
Players each control a ship. Over the course of three voyages (rounds), you bid using numbered crew cards to claim unique crate tiles off the central stack. Fill your hold with gold, cannons, and contraband and cover up what you don't want. At the end of each voyage, score coins by comparing your holds with everyone else, looking only at what is visible in your hold. The highest score wins. For 2 – 6 players, games last 20 – 40 minutes each.
---
#04 | Burgle Bros.
Burgle Bros makes the list of the best 3D board games because it is a great heist game that has you escaping through different floors of a skyscraper. Not only do you have to worry about the linear grid you are on, but you need to worry about what is going on above or below you at any given time.
You and other players are unique members of a crew trying to pull off a building robbery without getting caught. The building has three floors (4×4 tiles), each with its own safe to crack. Everyone starts on the first floor and has to escape to the helicopter waiting on the roof. If a player gets caught by a guard, you lose, and if you can open all three safes, and escape through the stairs to the roof you win. For 1 – 4 players, games last about 45 – 90 minutes.
---
#03 | Holi: Festival of Colors
Holi: Festival of Colors makes the list of the best 3D board games because the designers turned celebrating by throwing colored powder into a top notch title. This one like several others is about movement and timing, but it happens to be wrapped in an incredibly ingenious and beautiful package that any gamer type of any age bracket can enjoy.
Every spring, celebrants gather to spread color and cheer during one of India's most vibrant festivals. Players gain joy by throwing color on the boards (higher levels are worth more points), getting color on others, and from collecting sweets. Play your color cards cleverly, climb up at the right time, and spread the most joy. For 2 – 4 players, games go about 20 – 40 minutes.
---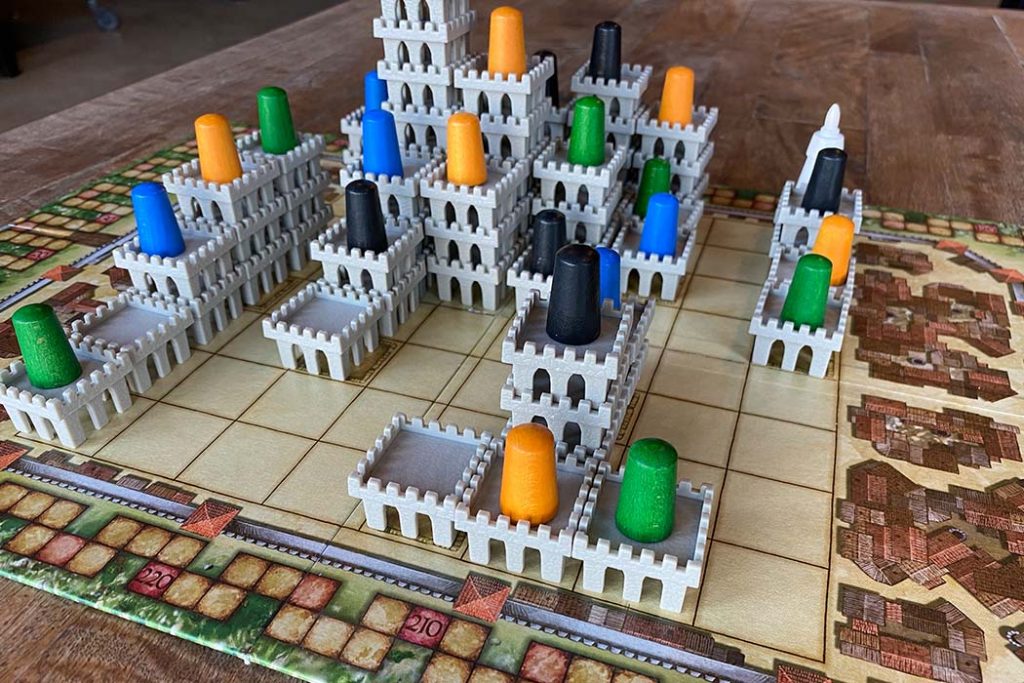 #02 | Torres
Torres makes the list of the best 3D board games because it is a masterful title that needs you to build upward quite a bit. You need to think about how you are going to invest wisely. Build towers and populate them with your knights in order to make it big in the Middle Ages. The game won a Spiel Des Jahres, which is the most prestigious award in board games, which says a lot.
Players are attempting to build up castles and position their knights to score the most points each turn. Everyone has a limited supply of knights and action cards that allow special actions to be taken. The efficient use of pieces and cards, along with a thoughtful awareness of future possibilities, is the heart of this game. It has the engine building and it has the shade puzzle (place in a way that helps you but hurts opponents, typically from multiple angles). For 2 – 4 players, games last about 60 minutes.
---
#01 | Santorini
Santorini takes the top spot on the list of the best 3D board games because it is one of the best abstract strategy titles out there and it happens to use multiple planes of space well. This is a tit-for-tat showdown game. It is very simple, but very strategic because of how you need to play off of your opponent. You move around a small grid, but more importantly, you need to decide how to build up.
You are constructing multi-level buildings on the glorious island and the first player to reach a certain level wins. You have only two things to do each turn, move a builder and build up. The first player to get a builder on top of a 3 story structure wins, and they must climb to it via a 1 and then a 2 story building. The key is if you are not strategic in how you do it, your opponent can block you, or worse yet, beat you there. For 2 – 4 players, games run about 20 minutes.
---
---
Do you agree with this list of the best 3D board games!? Leave your thoughts in the comments below or on our BGH Facebook Page.