Read on if you are looking for the best 5 player board games because you have come to the right place. Once you get to that number of people it gets more difficult to find a good game that is satisfying and manageable but no need to worry, there are plenty. There are so many different genres out there, it is hard to rank a definitive list, but we did our best. Once you get to a higher count, you can really start taking advantage of the right drafting, worker placement, cooperative and more opportunities. There is great stuff out there. This is our list of the 20 best 5 player board games.
---
#20 | Caverna: The Cave Farmers
Caverna The Cave Farmers just makes the list of the best 5 player board games but do not let that fool you. This worker placement follow up to the great Agricola was designed by the king of non-violent worker placement Uwe Rosenberg. With the focus on farming, you are the bearded leader of a small dwarf family that lives in a little cave in the mountain trying to thrive.
---
#19 | Forbidden Desert
Another great follow up on the list of the best 5 player board games is the cooperative adventure game Forbidden Desert. Race against the clock in this thrilling adventure to recover a legendary flying machine buried deep in the ruins of an ancient desert city. Every player has their own special ability and needs to contribute.
---
#18 | Dixit
Dixit is a game of storytelling and a great choice for best 5 player board games. Like Cards Against Humanity or Apples to Apples, this uses the secret submit and judge mechanic. You say a phrase and choose a photo to go along with it and then everyone submits to go along with it. The key is to be crafty enough where at least one person and not everyone guesses your card.
---
#17 | El Grande
In this award-winning game, you are a Grande in medieval Spain. The king's power is flagging, and you are a powerful lord vying for control of the various regions. This is a drafting and area control game where you need to draft caballeros (knights in the form of colored cubes) into your court and subsequently move them onto the board to help seize control of regions. For 2 – 5 but best as a 5 player board game.
---
#16 | Power Grid
Power Grid is a classic heavy engine builder. Working with a fluctuating commodities market has never been so much fun. The objective of Power Grid is to supply the most cities with power when someone's network gains a predetermined size. You start with nothing and you need to build up your empire and networks to be the champion.
---
#15 | Shogun
Set in the Sengoku period (approx 1467-1573), you assume the role of a great Daimyo with all his troops in this area control drafting game. Everyone has the same 10 possible actions to develop his kingdom and secure points. To do so you must deploy your armies with great skill. This is probably one of the lesser-known names on the list of the best 5 player board games but it is a great one.
---
#14 | Dead of Winter: A Crossroads Game
This best 5 player board games gem is all about survival from a horde of impending zombies. Roll dice, move around the board and use your special skills to work with other players to defeat incoming zombies and race against the clock. It may be about cooperation, but every player has their own secret goal and only one will survive.
---
---
#13 | Mysterium
Mysterium uses fun art and storytelling is a game of deduction where players take turns representing the ghost and the mediums trying to contact it. Unable to talk, the amnesiac ghost communicates with the mediums through visions, which are represented in the game by illustrated cards. The mediums must decipher the images to help the ghost remember how they were murdered.
---
#12 | Citadels
In Citadels, players take on new roles each round to represent characters they hire in order to help them acquire gold and erect buildings. This game is all about strategically taking the right person for the job you need that round to be the quickest to build some buildings. There is a little communication and bluffing, and a whole lot of fun strategy.
---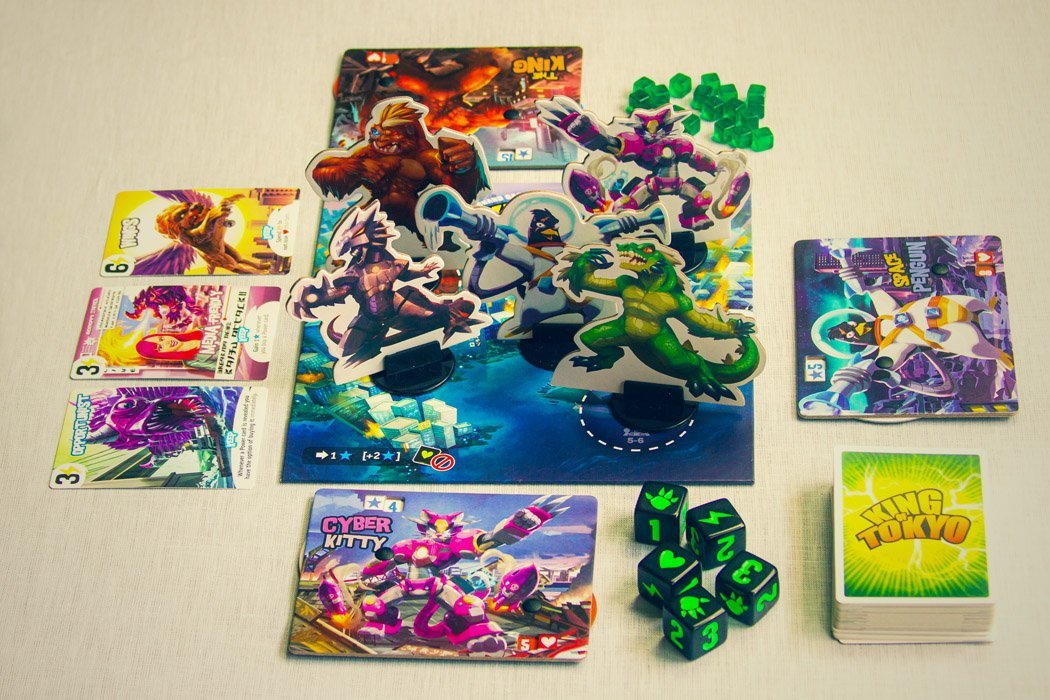 #11 | King of Tokyo
King of Tokyo is an edge of your seat thrill ride in the form of a king of the hill dice combat game. You are an iconic Godzilla like monsters trying to take over Tokyo, you either need to be the first to 20 VP or the last one standing. This makes the list of the best 5 player board games because it is really fun with a big number of people, could be 6 too.
---
#10 | Camel Up
If you want to recreate the joy of going to the track with a few other strategic bells and whistles, this title on the list of the best 5 player board games might be for you. In Camel Up, players bet on five racing camels, trying to suss out which will place first and second in a quick race around a pyramid. The earlier you place your bet, the more you can win — should you guess correctly.
---
#09 | 7 Wonders
Drafting games make for perfect board games with groups of 5 players, and 7 Wonders is one of the best drafting games out there. Over three eras, players pass around cards and take one from a stack turn after turn to take actions that help either build up your empire and resources or help construct your specialized wonder of the world.
---
#08 | Sheriff of Nottingham
Half communication and half strategy, this game is definitely not about Robin Hood. Everyone is a trader trying to bring goods into the city to make some cash except players take turns being the Sheriff. Traders load up their sacks with goods to bring and declare what they have. It is the Sheriff's job to determine if anyone is lying,
---
#07 | Ticket To Ride
Ticket To Ride is one of those fantastic strategy game that is typically reserved for 4, but it this case happens to accommodate 5 players and is perfect for it. You are looking at the map of a region broke up into many little possible train segments. Players get secret routes they need to complete. Collecting sets of train cards help you get from point A to point B.
---
---
#06 | Carcassonne
Lay a tile somewhere that makes sense then choose if you want to put a meeple on it. That is the entire "how to" on one of the easiest games to learn on the list of the best 5 player board games and ever. That doesn't mean that it is not amazing, even though your choices are simple, you have many paths to victory. The setting is medieval and instead of starting with a board, you are building it with tiles.
---
#05 | Cosmic Encounter
Cosmic Encounter makes the list of the best 5 player board games because it is one of the unique heavy strategy game that does not drag on forever with that many people. Build a galactic empire. In the depths of space, the alien races of the Cosmos vie with each other for control of the universe. You choose from dozens of alien races, each with its own unique power to further your efforts to build an empire that spans the galaxy.
---
#04 | Rising Sun
Rising Sun is a board game set in legendary feudal Japan. As the Kami descend from the heavens to reshape the land in their image, it is up to you to lead your clan to victory. Use politics to further your cause, negotiate to seek the most profitable alliances, worship the Kami to gain their favor, recruit monsters out of legend to bolster your forces, and use your resources wisely to be victorious in battle. Control everything in this best 5 player board games all-star.
---
#03 | Risk
Risk is the classic game of world domination and what would a great war be without at least 5 players. There is plenty of room, it just happens to make the game move longer the more you have. Playing this with 5 is perfect. The game is simple, you try and control as many territories as possible and you do this with lots of troops and rolling dice.
---
#02 | Betrayal at House on the Hill
Betrayal at House on the Hill is unique in that half the game everyone works and then halfway through an event happens and it turns out one of you is a traitor. It really works with the 5 player play count in this co-op adventure genre. You and other players are exploring a haunted house, along for the storytelling ride and deal with what comes out.
---
#01 | Small World
The 5 player count is a rough count, it starts to get to be too many players to have something deep and intense because that means very long playtime. Small World does it right though. The board is geared toward the exact count and conflict is quick and simple. Select and unique race and power pairing and try to hold as many territories as possible. An easy choice for the list of the best 5 player board games.
---
---
What do you think of our list of the 20 best 5 player board games? Let us know on our BGH Facebook page or in the comments below!