Read on if you are looking for the best 6 player board games because you have come to the right place. If you are at this player count, you are getting into unmanageable party territory, but no need to worry, there are still strategic choices as well. There are so many different genres out there, it is hard to rank a definitive list, but we did our best. Once you get to a higher count, there are many classic, as well as, new opportunities to get into. There is great stuff out there. This is our list of the 20 best 6 player board games.
---
#20 | Citadels
Citadels just makes it onto the list of the best 6 player board games and for good reason. It is all about taking on different roles to complete what you need done. The more roles the better, so having 6 people is great. Everyone does something different and you go round by round, so the game is knowing who is going to pick what so you can plan accordingly.
---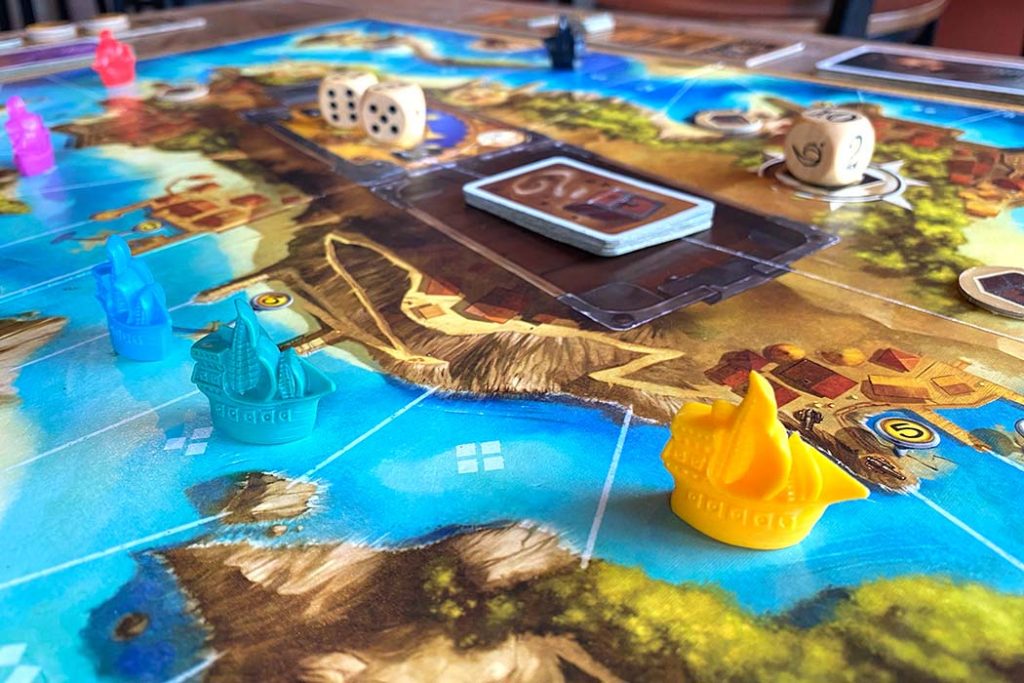 #19 | Jamaica
Jamaica can be played with many different player counts, but it is definitely best when you put it on the list of 6 player board games. This is a pirate-themed tactical race game with player interaction and side goals. Races and different prizes are just more exciting when many people are going after them.
---
#18 | Struggle of Empires
Struggle of Empires is a combat strategy game with a civilization development back set in Europe during the eighteenth century. This one is not just another historical battler, it has an interesting alliance system and growth mechanisms to help you as you go. A solid choice for the best 6 player board games.
---
#17 | Wits & Wagers
If you want a fun and friendly trivia game, this is the title on the list of 6 player board games that might be for you. There are many different versions of this for all occasions but the core of the game is basically a standard trivia game with a twist. Everyone answers a number based question, but then everyone takes bets on who was write and by how much.
---
#16 | Cartographers
Cartographers is the only roll-n-write on the list of the best 6 player board games. Many people complain that there is not enough player interaction in these games, but Cartographers has enough to keep it interesting. As a cartographer in the queen's service, you are sent to map new territory and claim it.
---
#15 | Caverna: The Cave Farmers
Designer Uwe Rosenberg is the master of the non-aggressive worker placement and spared no genius on this glorious follow up to farm-centric Agricola. Caverna: The Cave Farmers keeps with the theme and adds some other bells and whistles, including the possibility of having a larger player game. This is not only about expanding enough to make it on the list of the best 6 player board games, there is tons going on to make this one special.
---
#14 | Between Two Cities
Between Two Cities is a partnership-driven tile-drafting game in which each tile represents part of a city: factory, shop, park, landmarks, etc. You work with the player on your left to design the heart of one city, and with the player on your right to design another. This is a great 6 player board game because with this number you can have multiple projects going on while everyone is competing.
---
---
#13 | Here I Stand
This game covers all the action of the political and religious conflicts of early 16th Century Europe using a unique card-driven game system that models both the political and religious conflicts of the period on a single point-to-point map. This is great for the list of the best 6 player board games because each person represents one of the unique powers of the time.
---
#12 | Dune
In Dune, you will become the leader of one of six great factions. Each wishes to control the most valuable resource in the universe – melange, the mysterious spice only found at great cost on the planet Dune. You move units around a very large universe and have tasks to do. Having all factions in one board game is epic, but a bit long. Regardless, out of everything in the field, this easily makes the list of the best 6 player board games.
---
#11 | Dixit
Dixit is a game of storytelling meets the secret submit and vote mechanic. Each round a master picker says a phrase and submits a card with an image matching that face down. All other players submit a card of theirs that best matches. Then everyone votes on which is the master picker's choice. Point calculation is confusing but basically, the picker wants not everyone or no one to vote for them.
---
#10 | Camel Up
Camel Up is an exciting racing and betting game, great mechanics for any 6 player board game. Having this many people makes this game very exciting. Everyone bets on five racing camels, trying to suss out which will place first and second in a quick race around a pyramid. The earlier you place your bet, the more you can win.
---
#09 | Arkham Horror
Arkham Horror is a cooperative adventure game where you choose from 16 Investigators and take to the streets of Arkham. Before the game, one of the eight Ancient Ones (big monster) is chosen and it's up to you and your fellow players to prevent it from breaking into our world. This is a great choice on the list of the best 6 player board games if you want a team game.
---
#08 | Zombicide
Zombicide is a collaborative game in which players take the role of a survivor – each with unique abilities – and harness both their skills and the power of teamwork against the hordes of unthinking undead. Find weapons, kill zombies. The more zombies you kill, the more skilled you get. The game scales well and handles great when you max out making this a great choice for the list of the best 6 player board games.
---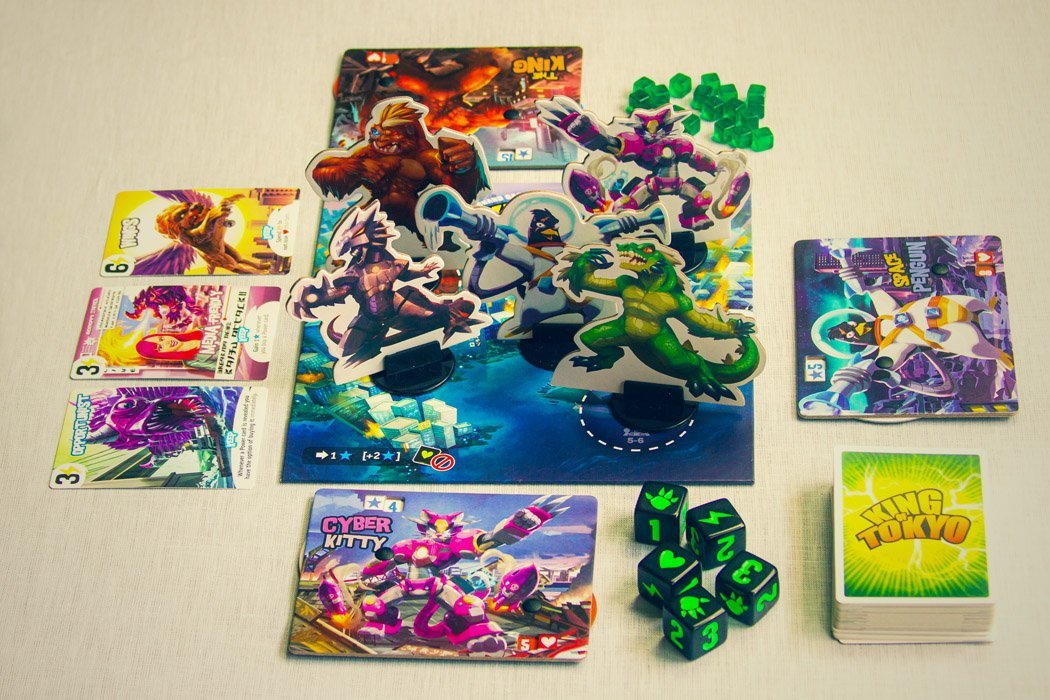 #07 | King of Tokyo
King of Tokyo is a nonstop thrill ride of a dice combat winner-take-all game. You represent a classic Godzilla like monster and try and compete with all the other players for Tokyo. Everyone inside takes damage from everyone, but it gets you big points. The winner is first to 20 points or last monster standing. This game is already great but when you play with 6 players it unlocks a 2nd location and more fun.
---
---
#06 | Mysterium
This is a collective game of deduction and a great choice for the list of the best 6 player board games. Everyone takes turn being the ghost, everyone else is a medium. Unable to talk, the ghost communicates through visions, which are represented in the game by illustrated cards. The mediums must decipher the images to help the ghost remember how he was murdered.
---
#05 | Twilight Imperium
Twilight Imperium is a game of galactic conquest in which up to 6 players take on the role of one of seventeen factions vying for galactic domination through military might, political maneuvering, and economic bargaining. This makes the list of the best 6 player board games because usually, a game of this scale cannot handle that count, but it does so beautifully.
---
#04 | A Game of Thrones: The Board Game
A Game of Thrones: The Board Game, is a great choice for the list of the best 6 player board games because it matches perfectly with all the houses of the seven kingdoms you can represent. Against everyone, you must vie for control of the Iron Throne through the use of diplomacy and warfare. This game is deep and has many strategic levels and mechanics.
---
#03 | 7 Wonders
Finding a good 6 player board game is just difficult, wrangling that many people gets long if you dive deep. That is until you hit drafting games, where turns happen at the same time. 7 Wonders is a leader in that space for sure and has given the world a very strategic game. Through three eras, you take card after card that will help you gain resources or build up your wonder.
---
#02 | Colt Express
In Colt Express, you play a bandit robbing a train at the same time as other bandits, and your goal is to become the richest outlaw of the Old West. You play a character with their own special ability and need to move around a 3D train in order to first "scheme" and then "steal". Getting this all the way to 6 players and jamming everyone on the train is great.
---
#01 | Codenames: Pictures
Codenames: Pictures is a game of two teams so it is great once you start hitting four people and higher. It is on the list of the best 6 player board games because if you have 6 people, this is our top recommendation. You are both teams trying to get your spies out of the field before others do the same. Each round, one player from each team gets to see where they are and need to convey this to their team with 1-word clues.
---
---
What do you think of our list of the 20 best 6 player board games? Let us know on our BGH Facebook page or in the comments below!