Read on if you are looking for the best 7 player board games because you have come to the right place. This is a big group, but lucky for you, there are many great options that will make you stop thinking I wish we were just two groups of 3 and 4. You are into party territory but there are many other strategic genres that you can be a part of as well. This is our list of the 20 best 7 player board games.
---
#20 | One Night Ultimate Werewolf
One Night Ultimate Werewolf is a party game that is about taking your role and determining clues to sniff out the enemy so a perfect choice for the list of the best 7 player board games. It is fast and quick but you are a villager, drunk, hunter or some other role that each plays a part in the story. Everything that happens is about finding the werewolf, can you do it in time.
---
#19 | Bohnanza
If you are looking for a game on the list of the best 7 player board games that hinge on key trading and deal-making, Bohnanza might be the title for you. The cards are colorful depictions of beans in various descriptive poses, and the object is to make coins by planting fields (sets) of these beans and then harvesting them.
---
#18 | Incan Gold
Incan Gold is a quick, fun press-your-luck game where players venture down mine shafts or explore paths in the jungle by turning up cards from a deck and distributing the gems you accumulate. Before the next card is revealed, you have the chance to leave the mine and stash your holdings, including any gems you get on the way out. It is rare to have a game like this be a best 7 player board games option, but it works great.
---
#17 | Spyfall
Spyfall is a party game unlike any other, one in which you get to be a spy and try to understand what's going on around you. It is a run clue giving and role playing party game. Everyone gets the same location card (a casino, the circus, etc) except one whose card says spy. You need to ask questions about the location and smoke out the traitor. When you have 7 players or more it makes it more challenging.
---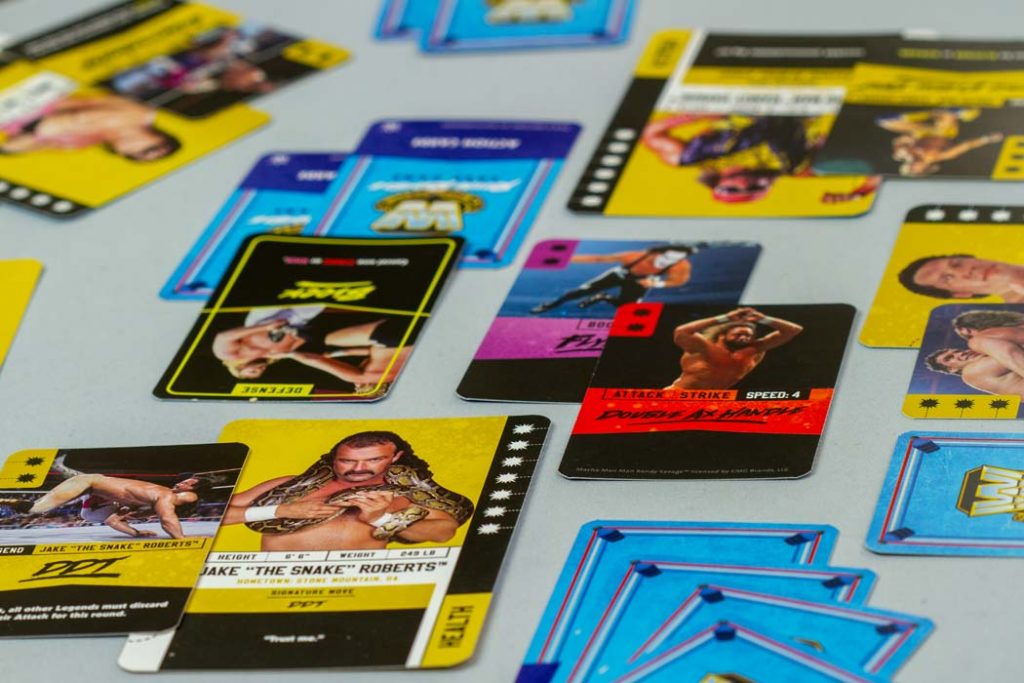 #16 | WWE Legends Royal Rumble
WWE Legends Royal Rumble makes the list of the best 7 player board games because of how active everyone is at all times with a high player count. The range in player count is wide but this game gets better with more people. It is a royal rumble and it stays very true to the all out battle royale brand. Actions happen simultaneously and hidden speed is what drives order so even with lots of people, you are always in the game.
Enter the ring as a WWE Legend and face off against your rivals in the WWE Legends Royal Rumble Card Game. Use electrifying attacks and signature finishing maneuvers to eliminate your opponents. Each player starts with a randomly dealt Legend, their corresponding Signature card, and six Action cards. All players go at the same time, and the game is played in rounds. Each round consists of four steps: Plan, Reveal, Attack, and End of Turn. For 2 – 10 players, games run 30 – 45 minutes.
---
#15 | Shadows over Camelot
Shadows over Camelot does a great job of cramming a fantastic semi-cooperative hand-management and deduction into a perfect best 7 player board games package. You are a knight of the Round Table and must collaborate to overcome a number of quests. Completed quests place white swords on the Round Table; failed quests add black swords and/or siege engines around Camelot.
---
#14 | Formula D
Formula D is a high stakes F1 type racing game where you race in a simulated car with the hope of crossing the finish line first. You have a simple race, you just need to get to the finish line first. Getting there takes significant planning, managing when to shift gears with each gear providing a different speed and a little luck. Easily one of the best racing games on the list of the best 7 player board games.
---
---
#13 | Struggle of Empires
Struggle of Empires is a combat strategy game with a civilization development back set in Europe during the eighteenth century. This one is not just another historical battler, it has an interesting alliance system and growth mechanisms to help you as you go. A solid choice for the best 7 player board games.
---
#12 | Caverna: The Cave Farmers
Caverna is a revolutionary worker placement game that is built for the list of the best 7 player board games. You are the bearded leader of a small dwarf family that lives in a little cave in the mountains. You begin the game with a farmer and his spouse, and each person represents an action that the player can take each turn.
---
#11 | Bang!
Right in the center of the list of the best 7 player board games we have a classic showdown game between cowboys. This fantastic card game recreates an old-fashioned spaghetti western shoot-out, with each player randomly receiving a Character card to determine special abilities, and a secret Role card to determine their goal.
---
#10 | Concept
In Concept, your goal is to guess words through the association of icons. A team of two players – neighbors at the table – choose a word or phrase that the other players need to guess. Acting together, this team places pieces judiciously on the available icons on the game board. This game tests your communication limits and does it well. There are not many games like this one on the list of the best 7 player board games, certainly worth a try.
---
#09 | Citadels
In Citadels, there are all sorts of characters in this medieval society that help you accomplish your goals and only one player can have each per round. You take turns drafting so knowing who wants what and when to strike is everything. The more characters the better so a great choice for best 7 player board games.
---
#08 | The Resistance
The Resistance is a social deduction party game that is like many of the others out there but it has some mechanics making it unique like increasing the resources for informed decisions, intensifying player interaction, and taking away player elimination. It can be played with up to ten but it is certainly one of the best 7 player board games.
---
---
#07 | Cards Against Humanity
Cards Against Humanity is a raunchy adult party game that uses the secret submit and judge mechanic. Each round one player is the master judge and throws out a black card. Other players secretly submit a white card to go with it and the judge decides which one is the best. This makes the list of the best 7 player board games because when you select, having at least six options to choose from is key.
---
#06 | Between Two Cities
Between Two Cities is a partnership-driven tile-drafting game in which each tile represents part of a city: factory, shop, park, landmarks, etc. You work with the player on your left to design the heart of one city, and with the player on your right to design the heart of another city. This is a drafting and tile-placement game that is a lot of fun. It maxes out at 7 players.
---
#05 | Sushi Go Party!
Drafting games are a great genre for the best 7 player board games and Sushi Go Party is one of the better ones that is on the lighter side. Fast and easy, this game is all about playing with your food. Depending on the game, collect the right sets as you pass to get the best point combinations. From dumplings to tempura, the game is adorable and fun.
---
#04 | Camel Up
Racing and betting is just more fun when you have 7 players. Games start to get out of control with a lot of people, but this Spiel des Jahres winner gets better with more people. You need to suss out which camels will place first and second in a quick race around a pyramid. The earlier you place your bet, the more you can win.
---
#03 | Cartographers
As a cartographer in the queen's service, you are sent to map new territory and claim it. In this fantastic roll-n-write game that is a perfect best 7 player board games title, you have to tightly manage your space and what may lie ahead. This can be played with many people but if you are looking for a thematic roll-n-write game with a 7 person crowd, this is a good choice.
---
#02 | Atlantis Rising
In Atlantis Rising, you are one of the citizens of the stricken island Atlantis. However, hope is not lost, a mystical portal of 10 components can be built and save the island and all its inhabitants, but fail to build it in time and the island will sink forever under the waves, lost to legend. An easy choice for the list of the best 7 player board games.
---
#01 | 7 Wonders
7 Wonders is one of the modern board game classics and the gold standard for a more robust drafting game. Through three eras, you take card after card that will help you gain resources or build up your wonder. This top title on the list of the best 7 player board games is perfect for this size group and it is a tremendous game.
---
---
What do you think of our list of the 20 best 7 player board games? Let us know on our BGH Facebook page or in the comments below!