Roll forward if you are looking for the best dice board games because that is what we are going to give you. Dice is very broad, it is one of the most common components found in a game. These games span all sorts of genres but one thing they have in common is that dice are being used in interesting ways and they are a key part of the game. People hate on dice sometimes because they introduce an element of luck, but when used correctly, they could be just what a game needs.
---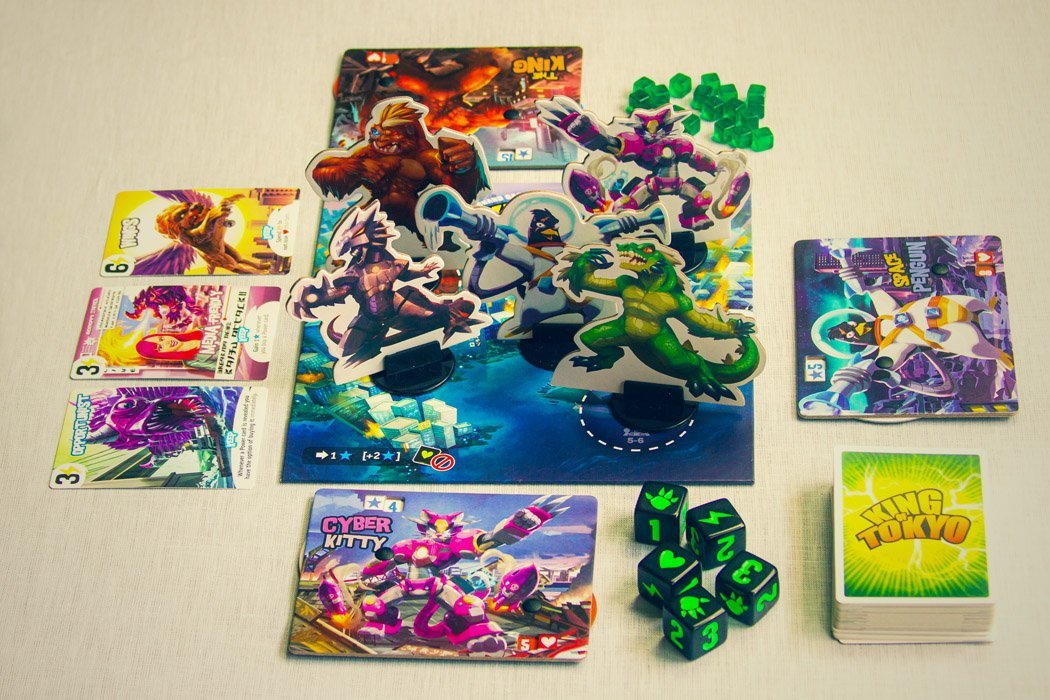 #10 | King of Tokyo
King of Tokyo just makes the list of the best dice board games because it is a nonstop thrill ride with multipurpose dice at the center. You are trying to hold down Tokyo while all the other monsters are attacking you and it all comes down to an exciting roll of the dice.
You are an iconic Godzilla like monster and you are crammed into Japan with others, all vying for control of Tokyo. You win the game by either being the first to 20 victory points or the last monster standing. You get big points by being in Tokyo but you take big damage. The dice reveal a combination of attacks, health and points. You need to go big or go home in this fun and east game. For 2 – 6 players, games run about 30 minutes.
---
#09 | Sagrada
Sagrada is a title on the list of the best dice board games that falls into the abstract strategy category and it is one of the best in that area. This is a drafting game of diminishing space and set collection. It has many things for you to consider in order to claim victory. Long and short term strategies are key.
You need to build a stained glass window by building up a grid of dice on your player board. Each board has some restrictions on which color or shade (value) of die can be placed there. Dice of the same shade or color may never be placed next to each other. Dice are drafted in player order, with the start player rotating each round, snaking back around after the last player drafts two dice. For 1 – 4 players, games last about 30 – 45 minutes.
---
#08 | That's Pretty Clever (aka Ganz Schön Clever)
A fantastic roll-n-write board game on the list of the best dice board games is the German import That's Pretty Clever. That means you get your own individual score sheet and you need to make a decision from a pool of many each round. A newer title, standard dice are used in ways you have never dreamed that are, well, clever.
Choose your dice wisely to enter them into the matching colored area, put together tricky chain-scoring opportunities, and rack up the points. The dice you don't use are as important as what you do because every die that's smaller than the chosen one can be used by the other players, keeping everyone in the game at all times. Each colored section has its owns rules and it is up to you to fill in all sections evenly in order to prosper. For 1 – 4 players, games last about 30 minutes.
---
#07 | Stone Age
Stone Age is a fantastic title and great choice for the list of the best dice board games that falls into the worker placement category. It is also often used as a "gateway game", meaning the title people show to others to get them excited about the board game hobby, which speaks wonders to its quality. Gameplay is fairly simple, but decision making is deep and cutthroat.
Players live in this time as historically accurate as possible. You collect wood, break stone and wash your gold from the river. Important tasks include trading freely, expanding your village and achieve new levels of civilization. With a balance of luck and planning, you compete for food in this pre-historic time. For 2 – 4 players, games run 60 – 90 minutes.
---
#06 | Champions of Midgard
Higher up in the intensity level in the worker placement genre that the previous best dice board games list item is Champions of Midgard. This takes worker placement into a deep combat game where it is all about preparing your barbarian horde to traverse the sea and take on mythical monsters. The barbarian warriors you draft are made of different dice.
You are the leader of a Viking clan who has traveled to an embattled Viking harbor town to help defend it against the threat of evil. Placing workers allows for the collection of resources and warriors, which can be sent on journeys to neighboring villages or across the sea to defeat monsters and gain the glory. Resources are used to carve runes, build ships, and feed your followers. For 2 – 4 players, game run about 60 – 90 minutes.
---
---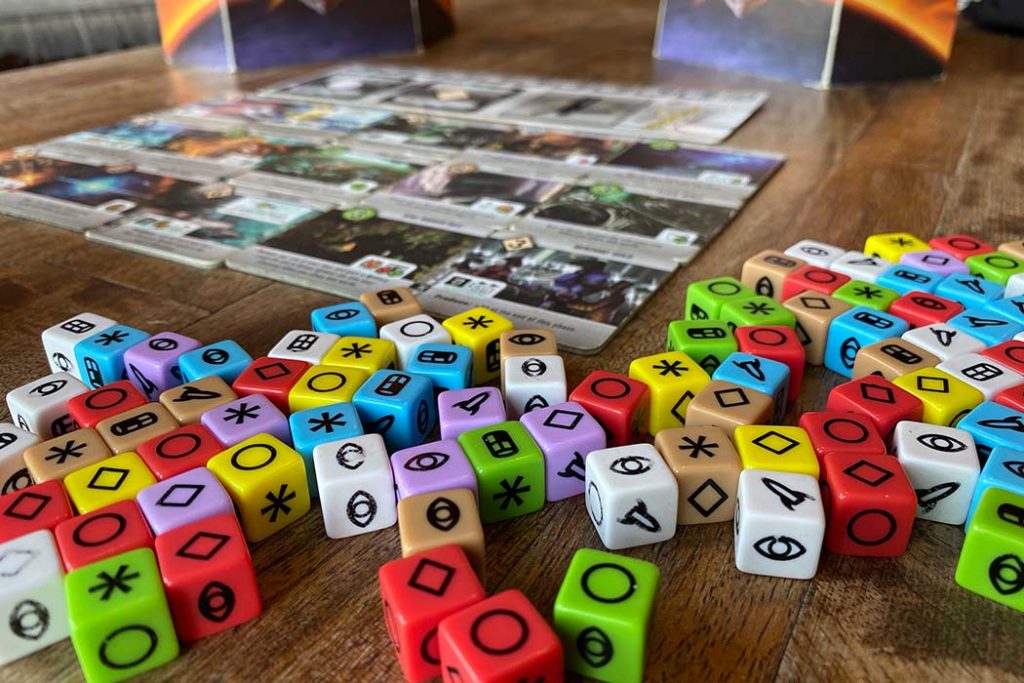 #05 | Roll for the Galaxy
If you are looking for the title on the list of the best dice board games that has the most variety of dice, that title may be the sci-fi epic Roll for the Galaxy. This medium intensity game has a little of everything, and crammed into all of that is plenty of different dice. You are building and growing, trying to amass the best civilization out of everyone.
Your dice represent workers who develop new technologies, settle worlds, and ship goods. The player who best manages his workers and builds the most prosperous empire wins. Players start each round by rolling their workers behind a secret shade to see what they wish to do this round. Each player uses one worker to select one of the five possible phases, and then all players show their workers. Phases and dice play out in order turn by turn to help you progress. For 2 – 5 players, games run about 45 minutes each.
---
#04 | Troyes
Troyes is another great dice driven worker placement game for the list of the best dice board games. This 2010 gem has great mechanics that allow you to cram a very intense game into a much shorter period than most. This is an interesting mix of dice workers and area control.
You recreate four centuries of history of the famous city of the Champagne region of France Troyes. Each player manages their segment of the population (represented by a horde of dice) and their hand of cards, which represent the three primary domains of the city: religious, military, and civil. Players can also offer cash to their opponents' populace in order to get a little moonlighting out of them. For 2 – 4 players, games run about 90 minutes.
---
#03 | Too Many Bones
In case you did not make the connection, "rolling bones" refers to rolling dice, usually in a craps or gambling like situation. Too Many Bones is a great title on the list of the best dice board games that deals with that very hip slang. This is an interesting deck building game that is uniquely cooperative, a dice builder RPG. You are on a journey and must face many battles on your path.
With over 100+ unique skill dice and 4-7 classes to choose from, every battle is its own mini challenge to figure out. Your adventure will consist of 8-12 battles before you reach your final destination and face off against one of a number of possible kingpins in order to win. Along the way, you will be faced with storyline decisions that will quickly have you weighing risk/reward, odds, and logic – with dice woven in everywhere. For 1 – 4 players, games last 1 – 2 hours.
---
#02 | The Castles of Burgundy
The Castles of Burgundy is undoubtedly one of the best and most respected board games of all time. This is a dice rolling tile placement game and with a worker placement back. You need to build up your territory and get the right strategic set collection bonuses. An easy choice for the list of the best dice board games.
It is about players taking settlement tiles from the game board and placing them into their princedom which is represented by the player board. Every tile has a function that starts when the tile is placed in the princedom. The princedom itself consists of several regions, each of which demands its own type of settlement tile. For 2 – 4 players, games run about 30 – 90 minutes.
---
#01 | The Voyages of Marco Polo
The top spot on the list of the best dice board games goes to a fantastic title that uses dice and an elegantly key way. It is another worker placement gem, but certainly its own game with unique and fun gameplay. This one appeals to everyone but is always a crowd pleaser. It is simple, but the freedom you have makes for great fun.
Players recreate journey of Marco Polo in the year 1271. You take on a unique character with a special power for use in game. The game is played over five rounds. Each round, you roll your five personal dice and can perform one action each turn with them. These include different ways to get resources, earn money, purchase units or travel. For 2 – 4 players, games run about 40 – 100 minutes.
---
---
Do you agree with this list of the best dice board games!? Leave your thoughts in the comments below or on our BGH Facebook Page.