The definitive ranked list of the best food board games. This is a category that will make your mouth water. Food is not only a necessity of life but it is also one of the most popular and cultural things to do. It is no surprise, especially in these hip lifestyle blogger times, that this versatile subject makes it into board games. These titles are good games that have to do with the things we eat and the ways we get to that final product. These are the top 10 best food board games.
---
#10 | Candy Land
Candy Land makes the list of the best food board games because it is that vintage family game that takes you into a vibrant world that is very, as the name implies, candy driven. Pop culture, food, and board games collide with this adventure that originally came out in 1949.
You just took cards to move along a track, but it didn't matter because there were like two cards that just took you to the end. None of that mattered, everyone just wanted to be a part of that thrill ride. It is weird that this is the game that ended up in so many homes, but credit to the marketing teams and Saturday morning cartoons.
---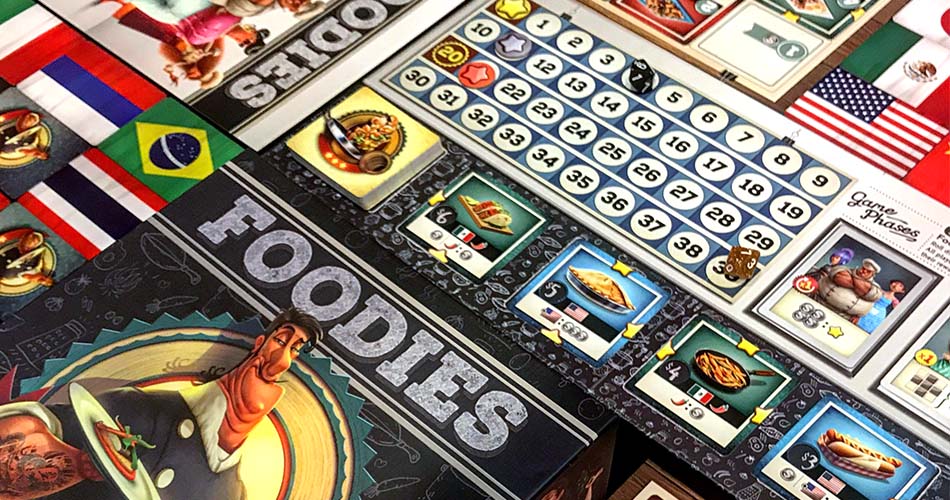 #09 | Foodies
Foodies makes the list of the best food board games because you cannot celebrate or make fun of food without the buzz word this title is named after. Through dice rolling and decision making every restaurant wants to attract the most customers, tailoring their menu and hiring famous chefs to work in their kitchen. In the end, only one will be the most successful.
Players take on the role of managers in a food court, adding new dishes to their menu, connecting the stars between different dishes. These recipes come from all over the world, granting different bonuses when added. What's more, players can hire chefs to work in their kitchens, including special, prestigious chefs who are the best in the business. In the end, the player who gains the most popularity will be declared the food master and win the game. For 2 – 5 players, game go for about 20 – 30 minutes.
---
#08 | Point Salad
Point Salad makes the list of the best food board games because it is a great card game that is all about making one colorful salad. This is a light title but a unique one that has you collecting groupings of fruits and vegetables with loads of ways to score points. You will draft cards in a very quick period to get what you need to win.
Cards come in six different types of veggies, and the back of each card has a different scoring method. So for instance, one scoring method may award 2 points for every carrot you have, but deduct a point for every onion. By drafting combinations of veggies and point cards that work for your strategy, you can amass the most points and win. For 2 – 6 players, games run 15 – 30 minutes.
---
---
#07 | Sushi Roll
Sushi Roll makes the list of the best food board games because even though it is not the top game in the Sushi Go universe, this is still a unique and exciting food fueled ride. Instead of the card drafting game of its more famous sibling, this is a roll-n-write game that tries to harness the same style of gameplay.
Load up the conveyor belts with savory sushi dice – ­­­­ then pick one and pass the rest! Earn points for winning combos like two tempura or a set of sashimi. Grab a menu to re-roll your dice or use chopsticks to swap with an opponent. And of course – save room for pudding at the end! Pick up the most points and you're on a Sushi Roll. For 2 – 5 players, games run approximately 20 minutes.
---
#06 | New York Slice
New York Slice makes the list of the best food board games because it is a known fact that everyone loves pizza. This is a party game with lots of simple decision making. Here you need to build your ultimate pizza, slicing it well or you may end up stuck with anchovies. It makes a good experience and use of theme based on one of the most interesting ways to try and split things up evenly.
Each player slices pizzas into portions, giving their opponents first choice, while they take the leftovers. There are a dozen kinds of pizza to work with, from veggie to hawaiian to meat lover's, and each player decides if they want to eat or keep some of the slices, building the best collection of pizzas possible. Each time a player slices a pizza, there's also a different special to go along with it. For 2 – 6 players, games go for about 30 minutes.
---
#05 | Kitchen Rush
Kitchen Rush makes the list of the best food board games because it is all about running a kitchen and the pursuit of outputting fantastic cuisine. This is a simulation and worker placement game that has you managing all the different areas of the preparation process.
Together with your friends you have purchased an old restaurant and are now responsible for its fate and success. Juggle orders, prepare dishes, and stock the pantry to satisfy your hungry customers. Over the course of 8 scenarios and you leveling up each element of your operation, your restaurant evolves and more challenging tasks are added. For 2 – 4 players, games run 20 – 60 minutes.
---
#04 | Abandon All Artichokes
Abandon All Artichokes makes the list of the best food board games because this is a really fun family game with some zany characters at its heart (artichoke joke). This is a simple drafting and deck building game that has you scrambling to get rid of a bumper crop of artichokes.
A bumper-crop of prickly produce has overtaken your patch, and there's only one choice: abandon all artichokes! You will need to prune your deck by harvesting fresh vegetables, each with a special power that lets you swap, discard, or compost cards. You need a mix of luck and strategy to put together a winning hand. For 2 – 4 players, games last a quick 20 minutes.
---
---
#03 | Wok Star
Wok Star makes the list of the best food board games because you are putting together recipes in real time. This is a dice rolling cooperative game that has players making quick-fire simultaneous decisions in this tycoon style game set in the restaurant world.
Players take on different roles to help grow a Chinese restaurant where clientele is represented by a deck of cards with various Chinese dishes on them. Customers are served one at a time while a 20-second sand timer is running. Each order requires a combination of ingredients to make. The board is used for tracking the levels of ten prepared ingredients in the kitchen. To prepare more ingredients, players spend dice in different combinations. All players are in charge of different tasks. For 1 – 4 players, games last approximately 60 minutes.
---
#02 | Sushi Go Party!
Sushi Go Party! makes the list of the best food board games because it is all about playing with the sushi that is going to make up your dinner and it sure is adorable. This is one of the top light card drafting games out there and it just happens to have this wonderful subject matter at the center. A very easy set collection game that scale well at different player counts.
This is a game about playing with your dinner, and there are all sorts of adorable sushi cards (tempura, dumplings, etc) that help you do this. Over 3 rounds players draft one card at a time to complete sets. Each card has its own special thing (like collect 4x of these and get 12 points) and it is up to you to strategically see what is coming around and pick the right card. Points are scored and new cards handed out in between each round. For 2 – 8 players, games last about 20 minutes each.
---
#01 | Truffle Shuffle
Truffle Shuffle takes the top spot on the list of the best food board games because it is a fantastic title that has art and components so good looking you will want to eat them. Here you take on the role of chocolatiers building poker-like sets of delicious-looking chocolates for points.
Players take turns selecting truffles from a shared box of overlapping cards in order to make their own arrangements of chocolates to sell. Players can complete a variety of sets, using special modifiers and action cards. With so many different chocolate truffles to unwrap and different ways to combine them, every game of Truffle Shuffle is unique. For 2 – 4 players, games run 15 – 30 minutes.
---
---
Do you agree with this list of the best food board games!? Leave your thoughts in the comments below or on our BGH Facebook Page.