The definitive ranked list of the best Racing board games. A race is anything that has a start and a finish with intention of everyone beginning at the same time with the first person reaching the end would be the winner. Just like in the real world you see this with cars, horses, bikes and more in board games, but unlike the real world there are also things like camels, pirates and fantastical settings. These are the top 10 best racing board games.
---
#10 | Winner's Circle
Winner's Circle makes the list of the best racing board games because it is horse racing at it's finest. Here you will need to bet on seven different horses over three races to see who can make the most money via an exciting dice confrontation.
You roll the die and choose which horse you want to move. The seven horses vary in strength, but even the weakest horses have some amazing bursts of speed. Everyone bets on the horses before each race and so either co-operate or compete to get their horses over the line. There are money tokens now for the winners, but not enough supplied in the game to pay out properly. For 2 – 6 players, games last about 45 – 60 minutes.
---
#09 | Rallyman: GT
Rallyman: GT makes the list of the best racing board games because this is a very dynamic car battle with an exciting mix of mechanics. Just like in real racing, there is an exciting push your luck element that leaves it up to you to see how far you want to push it. This is an exciting movement game driven by the dice and your will to survive.
This is a Roll and Move game with a simple yet exciting dice mechanic that invites players to push their luck and navigate the terrain as best they can. You must weigh taking a risk to squeeze every last second out of the track versus playing it cool to avoid spinning out on hard corners, bumps and other treacherous terrains. Each game has modular pieces that make a new track and you are pushed forward by rolling dice. For 1 – 6 players, games run about 45 – 60 minutes.
---
#08 | Thunder Alley
Thunder Alley makes the list of the best racing board games because this is another car showdown with enough of a creative an interesting take to stand alone as a worthwhile experience. If you are a fan of NASCAR above all else, this might be for you because it is set in that kind of environment and does it justice. You will need to race your team of cars more efficiently than anyone else.
Drafting, teamwork, accidents, yellow flags, pit strategy, working to lead laps, and sprints to the finish are all included and bring the feel of racing to the game. Players control not one car, but a team of 3–6 cars. Thus, each race is not only a run for the checkered flag but an effort to maximize the score for every car on your team. Winning is important, but if only one car crosses the finish line, your team might end up outside the winner's circle looking in. For 2 – 7 players, games last about 90 minutes.
---
#07 | Jamaica
Jamaica makes the list of the best racing board games because not only is it a wonderful game within the space, but it is set against an interesting theme that you do not really see in the genre. Dropped in the world of pirating, you need to race around Jamaica to claim it's treasure. What's unique here is the racing is important, but it is not always the fastest that wins.
This is a pirate-themed tactical race game with player interaction and side goals (e.g. detouring for treasure). The winner is the player who best balances their position in the race with their success at the side goals. The game ends on the turn when at least one player's ship reaches the finish line, completing one circuit around the island of Jamaica. For 2 – 6 players, games go for about 30 – 60 minutes.
---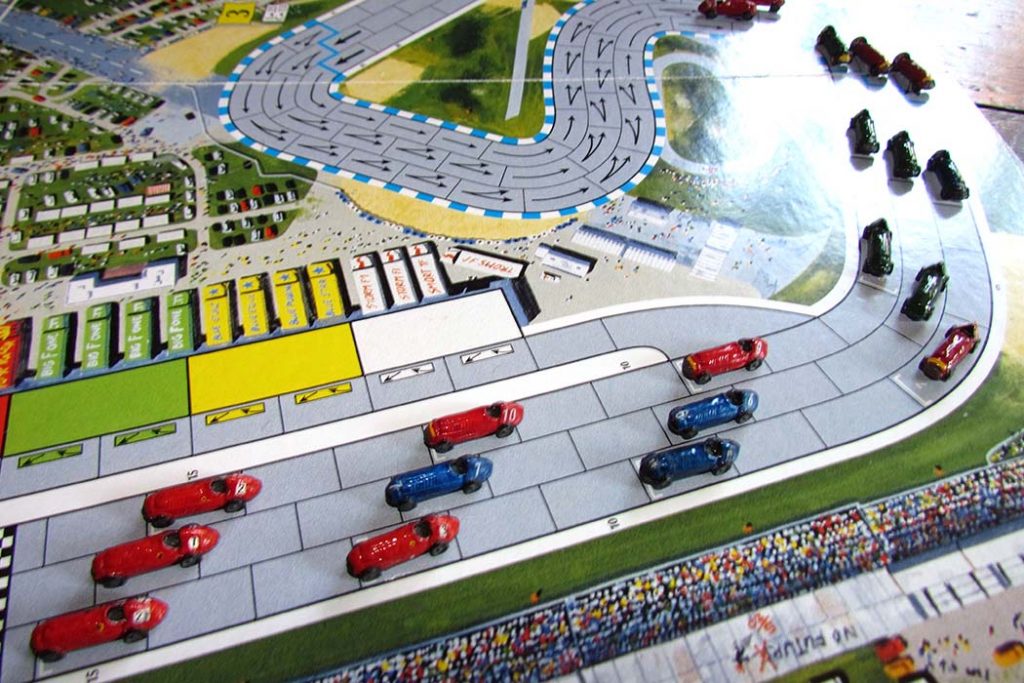 #06 | Formula D
Formula D makes the list of the best racing board games because it is such a love letter to any Formula D fan out there. With much of it coming down to how you shift gears, with each gear providing a different speed that needs to be factored in, you will need to master your own vehicle while also worrying about the your competition and the race itself.
This is a high stakes Formula One type racing game where the players race simulated cars with the hope of crossing the finish line first. With planning and a little luck, each player manages when to shift gears, with the ability to move up one gear, stay in that gear, or move down gears in a given moment. Speed is not the only issue, corners require special handling and penalties can happen. For 2 – 10 players, games go for about 60 minutes.
---
---
#05 | Steampunk Rally
Steampunk Rally makes the list of the best racing board games because this is a great dash to the finish not quite like anything else out there. Here instead of more traditional fare, you are racing with interesting contraptions as a variety of history's greatest inventors. The track evolves as you go which guarantees maximum freshness and a blind whimsical excitement.
Using a unique dice-placement mechanism, you take on the roles of famous folks from the turn of the last century like Nikola Tesla and Marie Curie, constructing fantastical contraptions using steam in an attempt to win a no-holds-barred race through the Swiss alps. You start with a draft for upgrades and then you roll to activate and move. For 2 – 8 players, games last about 45 – 60 minutes.
---
#04 | Downforce
Downforce makes the list of the best racing board games because it smartly applies an auction and betting system to a car game in this space. Set in the world of high-stakes bidding on million-dollar race cars, thinking both about your current situation and long term prospects you must make the most strategic choices to get ahead.
Players first bid to own the six cars in the race, then they play cards from their hand to speed them around the track. However, most cards will also move their opponents' cars. So figuring out just the right time to play a card is the key to victory. Along the way, players make secret bets on who they think will win the race. Whoever has the most money from their prize money, winning bets, and remaining bank wins. For 2 – 6 players, games last about 20 – 40 minutes.
---
#03 | Flamme Rouge
Flamme Rouge makes the list of the best racing board games because it is almost as exciting as a live bicycle race. This is a simultaneous action to catch the leader title where riders must negotiate the peloton and avoid exhaustion in this card-driven event. Bicycle racing is one of those categories that could have easily fell to the wayside in favor of other racing titles, but this is such a well-crafted game that it can easily hang with anything else out there.
You control a team of two riders (a Rouleur and a Sprinteur) with the goal to be the first to cross the finish line with one of your riders. Riders move riders forward by drawing and playing cards from that rider's specific deck, depleting it as you go. Use slipstreams to avoid exhaustion and position your team for a well-timed sprint for the win. For 2 – 4 players, games last about 30 – 45 minutes.
---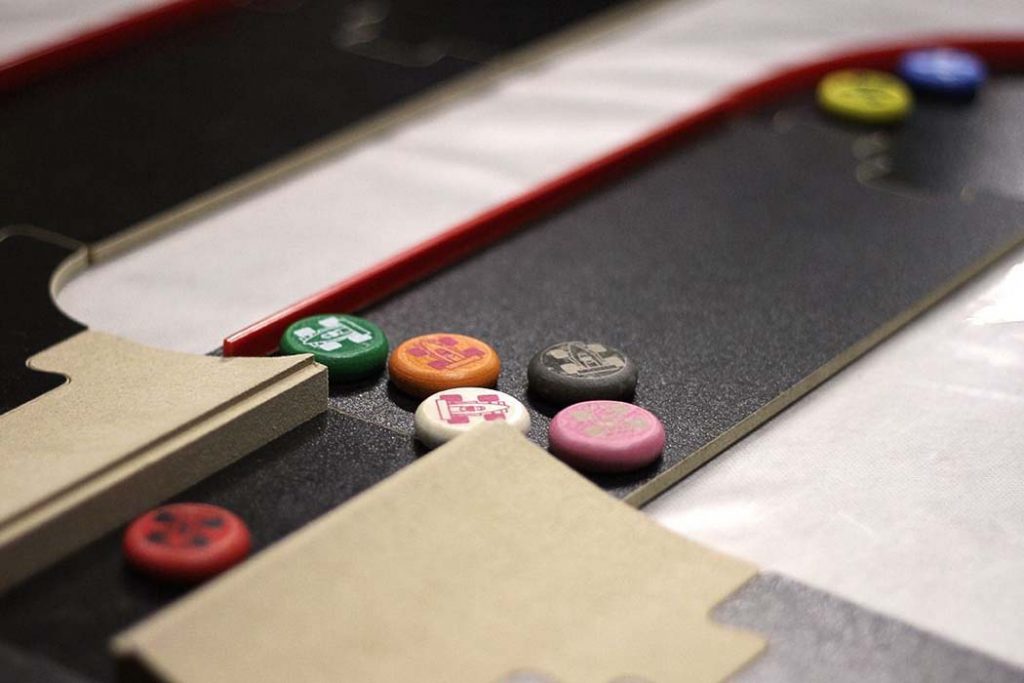 #02 | PitchCar
PitchCar makes the list of the best racing board games because it is one of the best dexterity games of all time that happens to lay into the car racing backdrop fantastically. Dexterity games are a strange cousin of the board game. It is hard to compare them at times, but one thing that everyone can agree on is that this is a great game within this category. Just like a real race, your heart will be beating the entire time.
Tons of large wooden track pieces give you the freedom to build whatever track you want. Players form their track however they want. At the starting line, circular discs are placed. Turn after turn, players take turns flicking their disc to further it along the track. With death-defying turns, jumps and opportunities to push your opponent out of the way, games can get very competitive. Be the first to cross the finish line to beat the other racers. For 2 – 8 players, games run around 30 minutes.
---
#01 | Camel Up
Camel Up takes the top spot on the list of the best racing board games because this award-winning title combines streamlined mechanics pushing the speed, merged with an interesting betting structure, all set against the unique and very creative idea of camel racing. No one can quite hit Camel Up because it is hard to beat something that gets it so right.
Everyone bets on five racing camels, trying to suss out which will place first and second in a quick race around a pyramid. The earlier you place your bet, the more you can win. Camels don't run neatly, however, sometimes landing on top of another one and being carried toward the finish line. It all depends on how the dice come out of the pyramid dice shaker, releasing one die at a time. For 2 – 8 players, games last about 20 – 30 minutes.
---
---
Do you agree with this list of the best racing board games!? Leave your thoughts in the comments below or on our BGH Facebook Page.