Your ultimate guide to the list of best Terraforming Mars expansions. The game was released in 2016 and has since released 5 expansions that do all sorts of things from adjust game pace, add new worlds, and introduce polital intrigue. In case you are unaware, Terraforming Mars is an incredible engine-building game putting you on Mars as a corporation to get the resources necessary to make it inhabitable. It was named the best board game of the decade 2010 – 2020 out of thousands of games. This is our comprehensive guide to the best Terraforming Mars Expansions.
---
LARGE EXPANSIONS (5 TOTAL)
---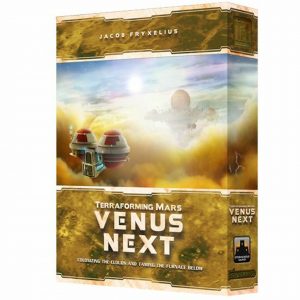 #05 | Expansion 2: Venus Next (2017)
Venus Next takes the bottom spot on the list of the best Terraforming Mars expansions because it is not everyone's favorite and we are just saying do not start here. It is good, it is just not as good as the others. Instead of just Mars, you are now taking on Venus, building flying cities and making the atmosphere more hospitable on the deadly planet. With the new floater resource, a new milestone, a new award, a new tag, and a new terraforming parameter, players are given more paths to victory and an even more varied play.
This is a medium boxed expansion. Around 50 project cards and 5 corporations are added, with a special focus on how to make Venus habitable.
---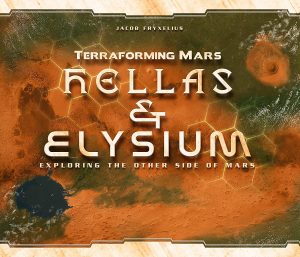 #04 | Expansion 1: Hellas & Elysium (2017)
Hellas & Elysium takes a lower spot on the list of the best Terraforming Mars expansions because it is just not as impressive as the others. The Venus Next expansion is only a map. This was the first-ever expansion for Terraforming Mars. Elysium takes players almost to the opposite side of Mars' equator, with vast lowlands for oceans in the north and a dry, mineral-rich south. Hellas, the southern wild, includes Mars' south pole and the enormous seven-hex Hellas crater that just begs to become a giant lake.
This comes as by far the biggest but skinniest on the list of Terraforming Mars expansions. This is just a new two-sided game board, no other additional components.
---
---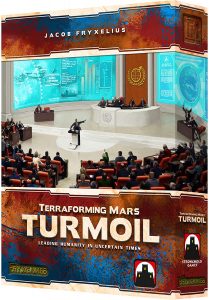 #03 | Expansion 5: Turmoil (2019)
Turmoil lands in the middle of the list of Terraforming Mars expansions because it is a fantastic angle but it is for pros only and might not be the best place to start. It is a very cool concept too, you are thrown into the struggle for control and progress of human society on the dangerous planet. Instead of being on high, it throws you in the weeds. Players can try to force their own agenda, or push it in a more moderate, economic way. They can play to mitigate global events with influence or adjust their play to better take advantage of them. And they can anticipate the competing players' agendas and try to benefit from them, or counteract them.
The expansion is large and includes new corporations, new projects, and a new type of cards — Global Events, from dust storms to riots to rising alloy demand — that give you something to plan for 3 generations in advance.
---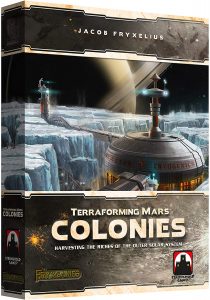 #02 | Expansion 4: Colonies (2018)
Colonies makes the list of the best Terraforming Mars expansions because it is one fantastic addition to the game. This addition expands your options by colonizing nearby planets. Corporations expand their operations to all corners of the solar system in pursuit of minerals and resources. Most places are not suited for terraforming, but building colonies may greatly improve your income and your possibilities in achieving that higher goal — the terraforming of Mars. Send your trade fleet to distant moons or colonize the clouds of Jupiter, and let your Earth assets propel you to success.
This is a small to medium expansion. It features colony tiles where you can build colonies and send your trade fleet. It also includes new cards and corporations.
---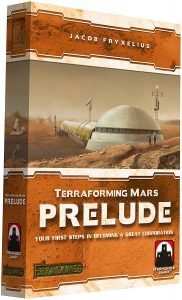 #01 | Expansion 3: Prelude (2018)
Prelude takes the top spot on the list of the best Terraforming Mars expansions because before you start adding bells and whistles, you need to address things that might be problematic, and this does just that. The game is fantastic but it is long. Much of that is getting your engine going at the beginning of the game. Prelude helps that by starting you with a "prelude" card that gives you some bonus to get you jump started. You get a few at the beginning and this adds to your overall starting strategy when picking your cooperation and starting action cards.
This expansion is a small box because it is just cards. It is a bunch of these Prelude cards, but also some new corporations with tons of new ability hooks.
---
Are you happy with the list of best Terraforming Mars expansions? Let us know in the comments below!