Big news today as Blair Witch partners with Hunt A Killer for a tabletop experience. As of October 1st, packages are on sale at their site for order. Hunt a Killer is traditionally known as a is an immersive murder mystery game that comes over the course of a season, which means subscription box service model. That is the case with this partnership, this season is basically Blair Witch. You are paying $25 – $30 a month.
As far as murder mystery board game experiences go, Hunt a Killer is top notch and Blair Witch is the perfect property to partner with. It is clear it is upcoming but it is not clear when the Blair Witch game will come out.
---
This is the description according to live site:
CAN YOU SURVIVE THE WOODS?
Uncover the history of Burkittsville in the first ever Blair Witch tabletop role-playing game. Work together with your friends or go it alone to overcome the malevolent forces in this terrifying experience from the makers of Hunt A Killer.
Experience the supernatural forces of the Blair Witch like never before in this narrative-driven psychological thriller. Every month you'll receive a new box of clues, documents and ciphers that get you closer to the truth.
When a woman's son goes missing under mysterious circumstances, she comes to you for help. Can you survive the Curse of the Blair Witch?
Get lost in the Black Hills Forest to uncover the truth about the recent disappearances and the supernatural forces behind them.
Dive into the clues that come in each box—pore over maps of Burkittsville's cursed woods, read through police reports, letters, and more to find out what happened in this terrifying immersive experience.
---
---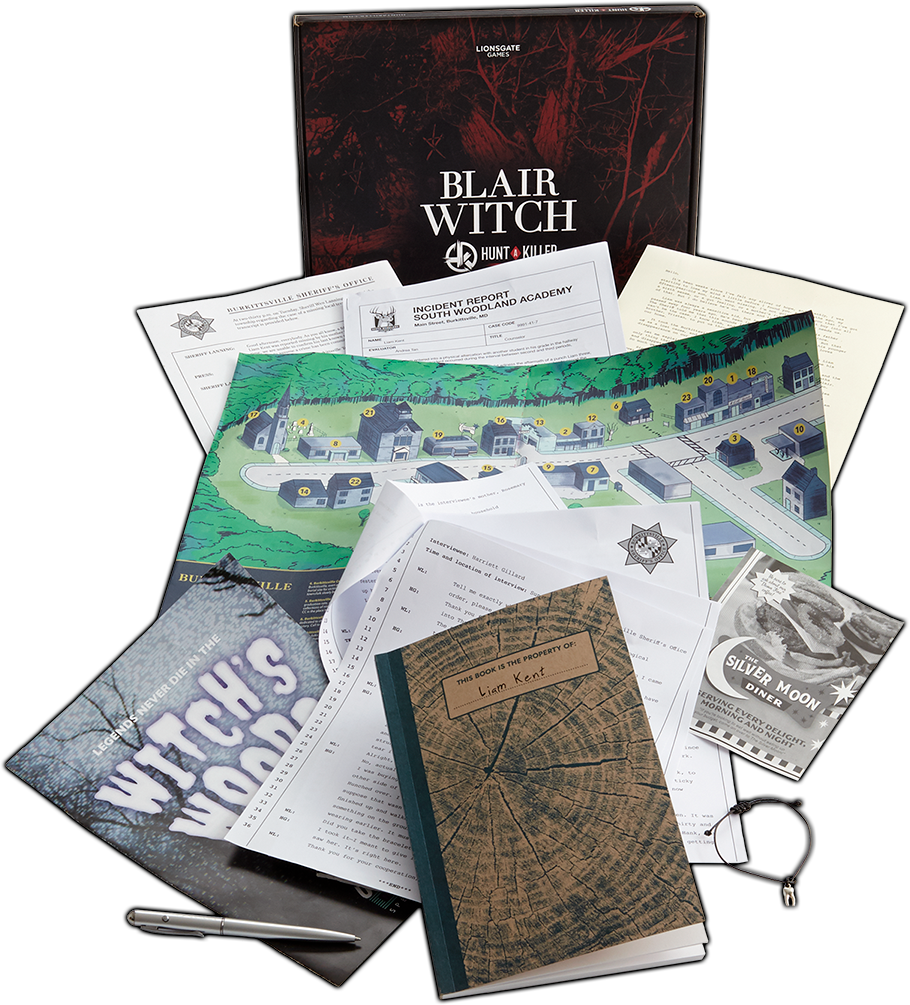 Blair Witch is the horror film that came out in 1999 and put the found footage genre on the map. They tried for Blair Witch sequels in 2000 and 2016 but both were considered disappointments at the box office. The latter was a better attempt, first being marketed at "The Woods" and then revealed as a big secret during its first screening at Comic Con of that year that it was actually a Blair Witch sequel. Up until that point, the film was being marketing as the scariest movie you will ever see.
Founded in early 2016, Hunt A Killer started as an annual immersive thriller event at Camp Ramblewood, MD. Participants would work in teams to solve a weekend-long murder mystery. Although the event saw some initial success, co-founders Ryan Hogan and Derrick Smith realized that their dream of revolutionizing the entertainment industry could not come to fruition through a once-a-year event. This led them to pivot their business model to deliver captivating, immersive mystery tales right to your doorstep through objects, letters, and clues from a fictional serial killer; hence, the Hunt A Killer Membership was born.
HOW IT WILL WORK
In this new season, players become detectives to solve a missing persons case near the infamous Black Hills Forest. The storyline begins with an introduction to Rosemary Kent, a woman who lives near the edge of the forest and is looking for help to find her missing son. Over the course of six boxed episodes, players will investigate the mysterious woods and learn about any disappearances, while finding out more about the powerful forces that reside there. From there they must piece together the clues, face the horror of the Blair Witch and those who serve her, and find out if they can survive the woods.
Each month, a new boxed episode will be delivered to the Member's doorstep, and they must work to unfold the story while sifting through a variety of cryptic documents, audio recordings, and unsettling puzzles. By the end of the season, enough horrific clues will have surfaced to help solve the case. Along the way players will have access to resources and can join the Hunt A Killer private Facebook community to ask for tips and socialize with others playing the game.
THE BUSINESS OF THE DEAL
This is Hunt A Killer's first time partnering with an entertainment company on a storyline, incorporating the iconic Blair Witch universe into their line of horror themed games. The game will be a part of Hunt A Killer's subscription-based offerings, granting players the opportunity to become Members in their gaming community.
"We are thrilled to partner with Hunt A Killer to continue expanding the world of Blair Witch into games," said Daniel Engelhardt, SVP of Lionsgate Interactive Ventures & Games. "Their creative approach and mechanics are a natural fit for a franchise defined by unique storytelling, and represents a special way for us to build upon the narrative of the video game we launched last year."
"We are excited to share this new season with our Members and the fans of the Blair Witch films," said Ryan Hogan, CEO and Co-Founder of Hunt A Killer. "Lionsgate is a great partner for us, and the hair-raising story we have created together is sure to provide the perfect immersive experience for a thrilling game night with friends or family."
Hunt A Killer worked with horror producers, Jason Egan and Patrick Rizzotti to broker the Blair Witch deal which was negotiated by SVP Business & Legal Affairs, Eva Feder, for Lionsgate.
ABOUT BLAIR WITCH
Found video footage tells the tale of three film students (Heather Donahue, Joshua Leonard, Michael C. Williams) who've traveled to a small town to collect documentary footage about the Blair Witch, a legendary local murderer. Over the course of several days, the students interview townspeople and gather clues to support the tale's veracity. But the project takes a frightening turn when the students lose their way in the woods and begin hearing horrific noises.
TRAILER:
ABOUT HUNT A KILLER
At Hunt A Killer, they are passionate about telling stories in new and memorable ways. By making immersive products that are high-quality and interactive, they create entertainment that brings people together. Their mission is to create meaningful experiences that are unbound by traditional mediums or genres and redefine how stories are told.
Since 2016, they have disrupted conventional forms of storytelling by delivering physical items, documents, and puzzles that tell immersive stories that form communities around shared experiences. What started as an in-person event has now grown to a thriving entertainment company with over 100,000 subscribers.
---
Blair Witch partners with Hunt A Killer for Tabletop Experience! Are you excited? Let us know in the comments below.