Continue if you are looking for games like 7 Wonders Duel and are curious about what similar games to play next. The game is solely for two players, with the players not drafting cards simultaneously from hands of cards like the original 7 Wonders, but from a display of face-down and face-up cards arranged at the start of a round. A player can take a card only if it's not covered by any others, so timing comes into play as well as bonus moves that allow you to take a second card immediately. As in the original game, each card that you acquire can be built, discarded for coins, or used to construct a wonder.
To determine this list we broke down 7 Wonders Duel to what it is. This game is a card drafting and set collection civilization building game that was retooled into a 2 player specific game from its original because the typical card drafting space does not work well for that count. If you are looking for something similar, you have come to the right place. We took all this into consideration and came up with this list of the 5 board games like 7 Wonders Duel.
---
#05 | Trambahn
Trambahn makes the list of board games like 7 Wonders Duel because it is a showdown game where you must take from a limited supply and make strategic decisions about what you are going to collect. The game is incredibly simple to ply but has deep and long-lasting decisions.
In Munich at the end of the 19th century, the successful new tramway needs expansion, and the two opposing players in Trambahn are competing for the contract. Over a grid, players use their cards in different ways: as passengers on the trams, as suggested stops on new routes, and as money to pay for these routes. When laying out cards for suggested stops, players need to both match colors and build them in ascending order — but they also need to bring passengers to this tram line in order to score victory points for it. For 2 players, games run 30 – 45 minutes.
---
#04 | Circle The Wagons
Circle The Wagons makes the list of board games like 7 Wonders Duel because it puts player against player in a great drafting game that is in a game mode that works specifically for 2 people. You need to draft and combine western themed cards to get points by meeting scoring goals.
Each player is fixin' to build up their own boomtown and be the best in the West. Blaze a trail by drafting cards and placing them in your town, trying to connect matching territories to score prosperity points. There are three bonus cards in the center that can get big rewards but have big risks. With tons of ways to score and millions of combos, you'll never build the same town twice. For 2 players, games go for about 15 minutes.
---
---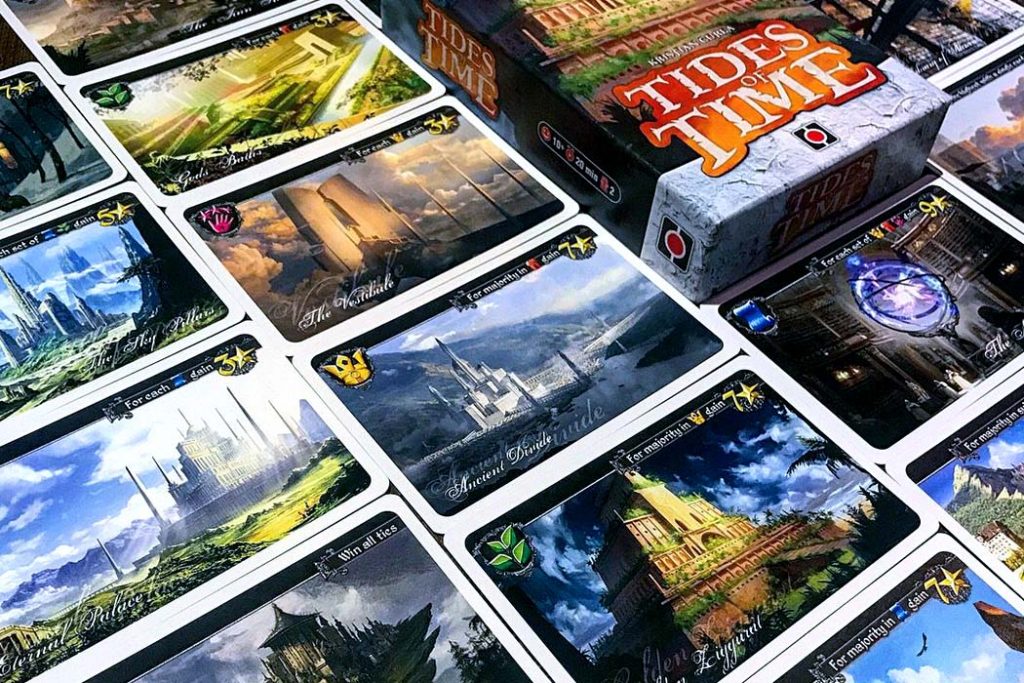 #03 | Tides of Time
Tides of Time makes the list of games like 7 Wonders Duel because it has you play as an ancient civilization as they prosper and collapse through time. Build gigantic monuments, raise impenetrable fortifications, and amass vast knowledge as the ages pass. both games are great drafting titles that are easy to play but have much going on.
Each game consists of three rounds in which players draft cards from their hands to build their kingdom. Each card is one of five suits and also has a scoring objective. After all cards have been drafted for the round, players total their points based on the suits of cards they collected and the scoring objectives on each card, then they record their score. Each round, the players each select one card to leave in their kingdom as a "relic of the past" to help them in later rounds. The most prosperous kingdom wins. For 2 players, games run 15 – 20 minutes.
---
#02 | Duelosaur Island
Duelosaur Island makes the list of games like 7 Wonders Duel because it is another engine building, card drafting title that takes a hit and reformulates into a game specifically built for 2 people. Compete against your rival to build the most exciting dinosaur park in the world through end game set collection, just like in 7 Wonders.
The game is built around a clever hand management mechanism. Each card in the game serves three potential purposes. They contain the DNA sequences for dinosaurs you could create, the blueprints for attractions you can build, and certain actions that you can take by discarding them. Do you create the dinosaur on the top of the card to attract guests to your park, build the attraction on the bottom which can add to a player's capacity, or do you discard the card to combine DNA? For 2 players, games run 30 – 45 minutes.
---
#01 | Morels
Morels takes the top spot on the list of board games like 7 Wonders Duel because it is a lightweight to medium card drafting and set collection game built for 2 players. Instead of building up a civilization and completing a wonder, you just happen to need to walk through the woods, collect mushrooms, and cook them up for tasty points.
The woods are old-growth, dappled with sunlight. Delicious mushrooms beckon from every grove and hollow. Morels may be the most sought-after in these woods, but there are many tasty and valuable varieties awaiting the savvy collector. Bring a basket if you think it's your lucky day. Forage at night and you will be all alone when you stumble upon a bonanza. For 2 players games go for about 30 minutes.
---
---
Do you agree with this list of board games like 7 Wonders Duel!? Leave your thoughts in the comments below or on our BGH Facebook Page.