Continue if you are looking for games like Arkham Horror the Card Game and are curious about what similar games to play next. You become on of the characters within the quiet New England town of Arkham. No matter what compels you, no matter what haunts you, you'll find both your strengths and weaknesses reflected in your custom deck of cards, and these cards will be your resources as you work with your friends to unravel the world's most terrifying mysteries.
To determine this list we broke down Arkham Horror the Card Game to what it is. Arkham Horror the Card Game is a cooperative game where you and your crew get unique characters to take on the well written horror thriller adventures that await you. It is a Living Card Game with new adventure constantly on the horizon. If you are looking for something similar, you have come to the right place. We took all this into consideration and came up with this list of the 5 board games like Arkham Horror the Card Game.
---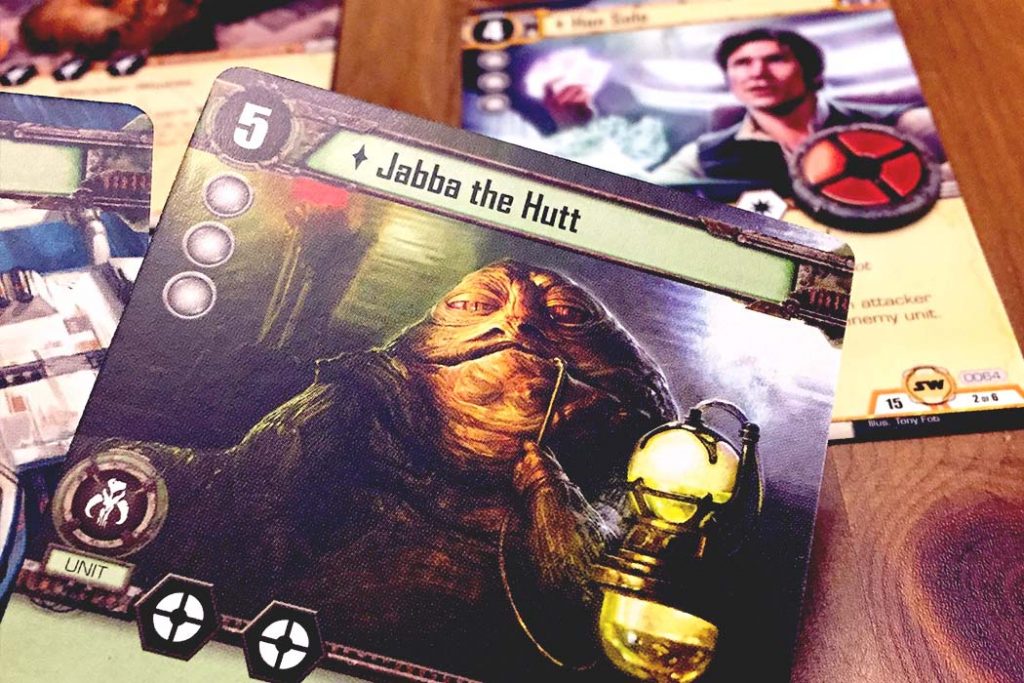 #05 | Star Wars: The Card Game
Star Wars makes the list because it is a fantastic franchise driven living card game. Both are cooperative, with you controlling a unique character and play deck that you need to manage strategically in order to win and defeat the opponents. This is a little different that the others in that people can be part of opposing sides instead of just being the good guys against the bad guys of the game.
Star Wars: The Card Game is a card game that puts one player in command of the Rebels and one player in command of the Empire. The Balance of the Force expansion allows multi-player games. The game is set within the time-frame of the original Star Wars trilogy. Each player has a deck of objective cards representing various missions plus a deck of player cards of units (characters, vehicles, droids and creatures), events, enhancements and fates. For 2 players, games run 30 – 60 minutes.
---
#04 | Marvel Champions: The Card Game
Marvel Champions makes the list of board games like Arkham Horror the Card Game because it does a fantastic job of mashing up your characters and the types of things everyone can do. This is part of the elite Living Card Game genre, like all games on this list, meaning it is a story that lives and continues to generate new content to tackle.
This epic card game throws you into the Marvel Universe where many options for good and the ability to take on the many options that are bad. Deep benches of superheroes and supervillains with different abilities and tactics lead to hours of fun. Your hand consists of characters or actions to take, but you also need to use your hand to pay for those cards. You have to make tough choices and work closely with your peers in this cooperative game to survive. For 1 – 4 players, games go for 45 – 90 minutes.
---
---
#03 | A Game of Thrones: The Card Game
A Game of Thrones the Card Game makes the list of games like Arkham Horror the board game because it has the same top notch gameplay and rich thematics you would expect from anything similar. This wonderful card game has great characters, objectives to overcome and of coarse the epic world of Westeros.
The warring factions of Westeros await your command, inviting you to engage in a life-or-death struggle. In every game, you select devious plots and challenge your opponents on the field of battle, through back alley intrigue, and in the political arena. Whether you play against a single opponent, in a game known as a joust, or engage in a battle of three or more players, called a melee, winning challenges against your opponents is the way to victory. For 2 – 4 players, games run 1 – 2 hours.
---
#02 | The Lord of the Rings: The Card Game
Lord of the Rings the Card Game makes the list of games like Arkham Horror the Card Game because it is one of the most beloved with the most loyal following and with these types of games, you want to get on board with the one that the most people are playing. This ensures needed continued support. It needs to look out though, some of the more recent LCGs are giving it a run for its money.
Players attempt to finish a game by completing a scenario, each with three heroes of their choice and a deck of allies, events and attachments to support them. Each round, players send their heroes and allies to quest or to fight with enemies that engage them. However, as the heroes and allies exhaust after questing, defending, or attacking, the players' options are typically insufficient to deal with everything at once. Long term strategies and working together are key. For 1 – 2 players, games last 30 – 60 minutes.
---
#01 | Call of Cthulhu: The Card Game
Call of Chithulhu is a living card game like anything else on this list. The reason it takes the top spot on games like Arkham Horror the card game is because unlike the other games here, it really brings the horror and chills down your spine. If you love venturing into the dark unknown like that, this would be a great option.
Welcome to a world based on the weird fiction of H.P. Lovecraft and his literary circle. In this world, conflicts rage between cosmic powers who want the world for their own unfathomable purposes and the human agencies dedicated to stopping them. A typical game of Call of Cthulhu plays very quickly between two players and it has a high-level of player interaction, analysis of open information, planning and strategy. For 2 players, games last about 30 minutes.
---
---
Do you agree with this list of board games like Arkham Horror The Card Game!? Leave your thoughts in the comments below or on our BGH Facebook Page.