Continue if you are looking for games like Food Chain Magnate and are curious about what similar games to play next. Food Chain Magnate is a heavy strategy game about building a fast food chain. The focus is on building your company using a card-driven (human) resource management system. Players compete on a variable city map through purchasing, marketing and sales, and on a job market for key staff members.
To determine this list we broke down Food Chain Magnate to what it is. You not only are working two sides, creating supply & creating demand, but you also need to plan to hope they match up. This is a network building game that takes investment and reading the market. If you are looking for something similar, you have come to the right place. We took all this into consideration and came up with this list of the 5 board games like Food Chain Magnate.
---
#05 | Power Grid
Power Grid makes the list of games like Food Chain Magnate because it is all about managing supply, demand and market risk. Instead of fast food products, here you are managing power resources. Both games are on the tricky because of the complex network that is needed to be built up the necessary options to get business done.
The objective of the game is to supply the most cities with power when someone's network gains a predetermined size. In this new edition, players mark pre-existing routes between cities for connection, and then bid against each other to purchase the power plants that they use to power their cities. For 2 – 6 players, games run around 2 hours.
---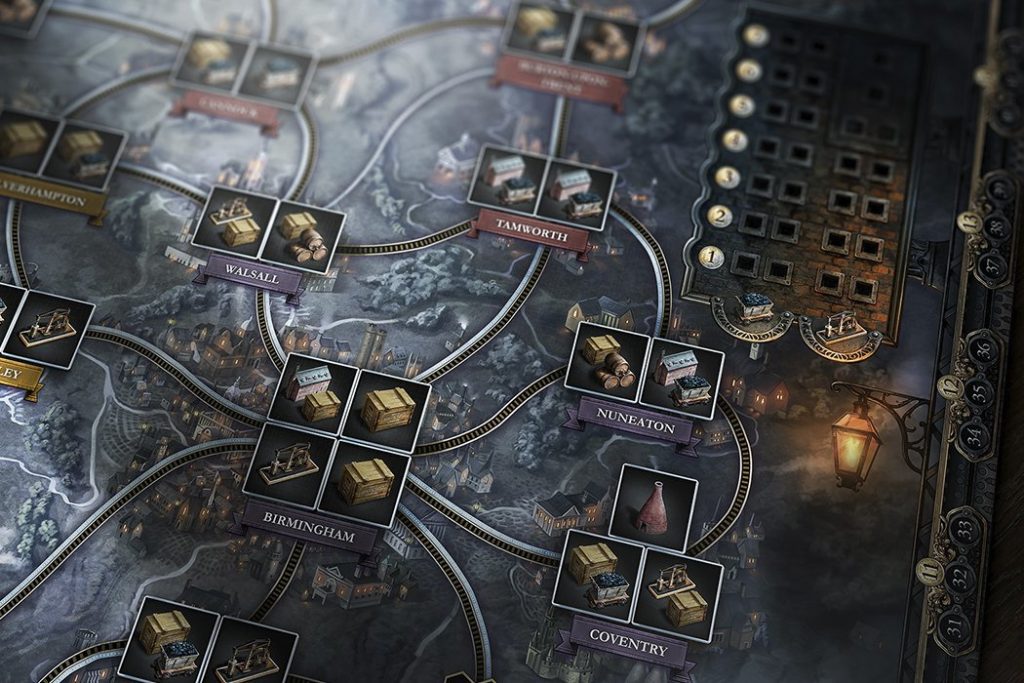 #04 | Brass: Birmingham
Brass: Birmingham makes the list of games like Food Chain Magnate because it is another deep supply/demand economy game. The Brass series is considered one of the top in this area and FCM can definitely hold to its level. This is a much denser and darker atmosphere. The entrepreneurial thematic is there but it doesn't have the bright joy of Magnate.
This is an economic strategy powerhouse that tells the story of competing entrepreneurs in Birmingham during the industrial revolution (1770-1870). You must develop, build, and establish your industries and network so that you can capitalize on the demand for iron, coal and cotton. The game is played over various important phases. Many decisions need to be made about what you are going to invest in and where you are going to go. For 2 – 4 players, games last 1 – 2 hours.
---
---
#03 | Age of Steam
Age of Steam makes the list of board games like Food Chain Magnate because it is another classic that has you working both sides of supply and demand while also making sure everything comes together so nothing is wasted. Both are deeply economical and on the more intense side.
Steam-belching iron horses roar across the wild plains, this game relives the era when pioneering U.S. railroads built the tracks that transformed America's economy. The cut-throat action is centered on the industrial powerhouses of the growing nation: Pittsburgh, Cincinnati, Chicago, and beyond. make decisions about how and when to grow your network. For 1 – 6 players, games last about 2 hours.
---
#02 | Arkwright
Arkwright makes the list of board games like Food Chain Magnate because as far as running your own business, these titles are very similar, here you are just running four factories in England during the late 18th Century instead of a fast food empire. Your goal is to have the most valuable block of own shares. Thus, you must increase your share value and buy shares from the bank.
Run all four factories with most possible output, set the focus on only two factories and improve them more than the others can; use shipping to colony or focus on the home market. In any way you have to react to the opponents and their strategy. Enter markets with a deficit in supply or give up business where the other players start to push you out. Buy shares when they are cheap and increase the value, or first make money and buy shares later. For 2 – 4 players, games run 2 – 4 hours.
---
#01 | City Of The Big Shoulders
City of The Big Shoulders takes the top spot on the list of board games like Food Chain Magnate because it is a magical mix of all the things here. It has that robust economical supply/demand scope but also has a more intimate control of getting a business going from scratch.
Players take on the roles of entrepreneurs and investors seeking to rebuild Chicago into a city fit for the world stage. In this unique merger of 18xx-style stock manipulation mechanics with euro-style gameplay, players start companies, trade in shares, hire employees, equip their factories, produce goods and sell them to be delivered to homes across the midwest. For 2 – 4 players, games last approximately 2 – 3 hours.
---
---
Do you agree with this list of board games like Food Chain Magnate!? Leave your thoughts in the comments below or on our BGH Facebook Page.