Continue if you are looking for games like Marvel Champions The Card Game and are curious about what similar games to play next. Marvel Champions throws you into the Marvel Universe where many options for good and the ability to take on the many options that are bad. Deep benches of superheroes and supervillains with different abilities and tactics lead to hours of fun.
To determine this list we broke down Marvel Champions to what it is. This is a Living Card Game (LCG) that is cooperative with very variable player powers and comes down to your hand management. You survive and fail based on how you can act as one against your enemies. If you are looking for something similar, you have come to the right place. We took all this into consideration and came up with this list of the 5 board games like Marvel Champions The Card Game.
---
#05 | Legendary: A Marvel Deck Building Game
Marvel Legendary is the only game on the list of board games like Marvel Champions the Card Game because it is a deck builder. It is still cooperative, it is still a card game and it is still Marvel, but this important detail fundamentally changes gameplay which is kind of important. There are enough elements in common where if you like one, you should like the other.
Based on the expansive Marvel universe, you set up a game with players choosing a supervillain like Magneto or Loki, their deck and their superhero like Spider-Man or Wolverine. Over the course of the game, players will recruit powerful hero cards to add to their deck in order to build a stronger and more resourceful deck. Players need to build both their recruitment powers (to enlist more heroes) and their fighting ability (to combat the villains). For 1 – 5 players, games last 30 – 60 minutes.
---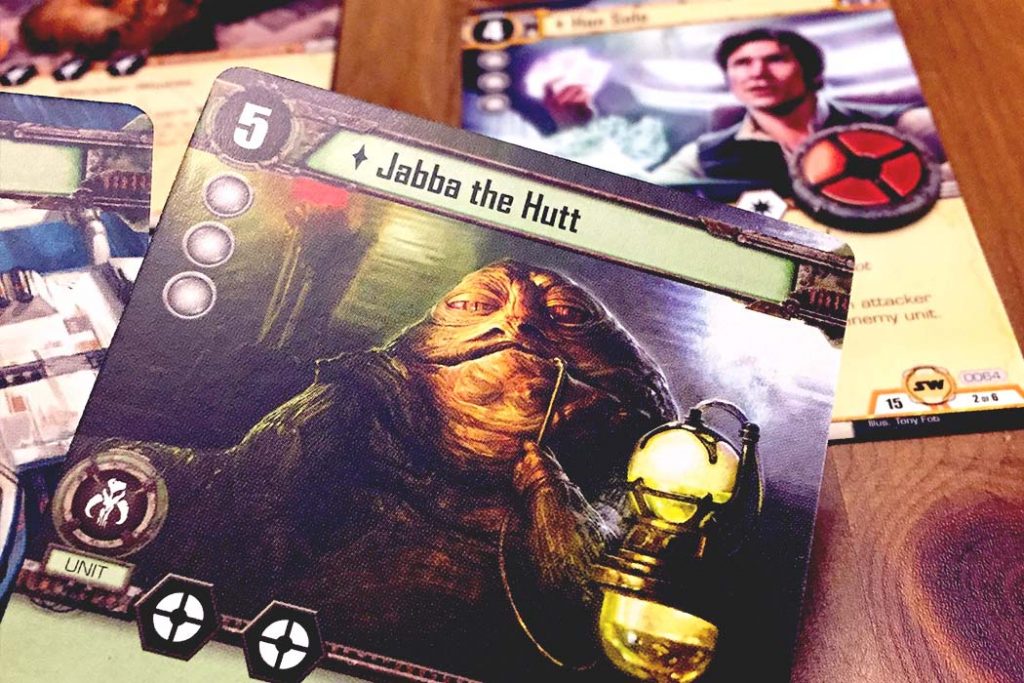 #04 | Star Wars: The Card Game
Star Wars easily makes the list of games like Marvel Champions the Card Game and kicks off the series of Living Card Games you are about to see. Both games are based on arguably two of the best entertainment properties in existence. The gameplay is the same, the only changes are those that masterfully go along with the theme.
Star Wars: The Card Game is a card game that puts one player in command of the Rebels and one player in command of the Empire. The Balance of the Force expansion allows multi-player games. The game is set within the time-frame of the original Star Wars trilogy. Each player has a deck of objective cards representing various missions plus a deck of player cards of units (characters, vehicles, droids and creatures), events, enhancements and fates. For 2 players, games run 30 – 60 minutes.
---
---
#03 | A Game of Thrones: The Card Game
Games of Thrones makes the list of games like Marvel Champions the Card Game because it is another entertainment franchise driven card game that is about a cooperative team of unique characters taking on the evils of the game. You have to work together and use your special abilities to succeed.
The warring factions of Westeros await your command, inviting you to engage in a life-or-death struggle. In every game, you select devious plots and challenge your opponents on the field of battle, through back alley intrigue, and in the political arena. Whether you play against a single opponent, in a game known as a joust, or engage in a battle of three or more players, called a melee, winning challenges against your opponents is the way to victory. For 2 – 4 players, games run 1 – 2 hours.
---
#02 | Arkham Horror: The Card Game
Arkham Horror the Card Game makes the list of games like Marvel Champions the Card Game because it is another cooperative group special ability game attack. Since these living card games very much take on the characteristics of their themes, they are all very satisfying different, but Arkham's, strangely enough, feels one of the closest to how Marvel plays out.
You become on of the characters within the quiet New England town of Arkham. No matter what compels you, no matter what haunts you, you'll find both your strengths and weaknesses reflected in your custom deck of cards, and these cards will be your resources as you work with your friends to unravel the world's most terrifying mysteries. Each adventure will carry you deeper into mystery. For 1 – 2 players, games go for 1 – 2 hours.
---
#01 | The Lord of the Rings: The Card Game
After reading through this list of games like Marvel Champions the Card Game, you are probably done hearing the same things. Well this is the same situation as the three before this, Lord of the Rings The Card Game just happens to have the biggest following and satisfaction. Marvel is relatively new, however, and is gaining momentum towards being #1.
Players attempt to finish a game by completing a scenario, each with three heroes of their choice and a deck of allies, events and attachments to support them. Each round, players send their heroes and allies to quest or to fight with enemies that engage them. However, as the heroes and allies exhaust after questing, defending, or attacking, the players' options are typically insufficient to deal with everything at once. Long term strategies and working together are key. For 1 – 2 players, games last 30 – 60 minutes.
---
---
Do you agree with this list of board games like Marvel Champions The Card Game!? Leave your thoughts in the comments below or on our BGH Facebook Page.