Continue if you are looking for games like Parks and are curious about what similar games to play next. Players will take on the role of two hikers as they trek through different trails across four seasons of the year. While on the trail, these hikers will take actions and collect memories of the places your hikers visit. These memories are represented by various resource tokens like mountains and forests. Collecting these memories in sets will allow players to trade them in to visit a National Park at the end of each hike.
To determine this list we broke down Parks to what it is. This is a worker placement that is about making choices about how you want to move forward through each season. The spots you choose give you different resources and ways to spend them. It is up to you to manage everything. If you are looking for something similar, you have come to the right place. We took all this into consideration and came up with this list of the 5 board games like Parks.
---
#05 | Sierra West
Sierra West makes the list of board games like Parks because this is another journey through the beauty of nature that has you managing your team and managing different resources. Just like the path you take in Parks, in Sierra West you need to head out West to find opportunities in a key US nature landmark.
In the late 1840s, thousands of pioneers headed out West to seek wealth and opportunity. You are an expedition leader who must guide a party of rough-and-ready pioneers—employing a clever mix of strategy and tactics with each step. Players choses one of the different game mode options and builds a mountain of overlapping cards with the corresponding deck. Every choice adds new thematic content, alternate paths to victory, and interesting twists on the core mechanics. For 1 – 4 players, games run 40 – 60 minutes.
---
#04 | Great Western Trail
Great Western Trail makes the list of board games like Parks because it is a journey game driven mainly by worker placement but with many different mechanics within different sections to factor in. Instead of moving forward along a path through different parks, you are trekking a route for your cattle to forge.
You are a rancher and constantly herd your cattle from Texas to Kansas City, where you send them off by train. Each time you arrive in KC, you want to have your most valuable cattle in tow. However, the trail not only requires that you keep your herd in good shape, but also that you wisely use the various buildings along the trail and hire the right staff such as herders or craftsman. For 2 – 4 players, games last 75 – 120 minutes.
---
---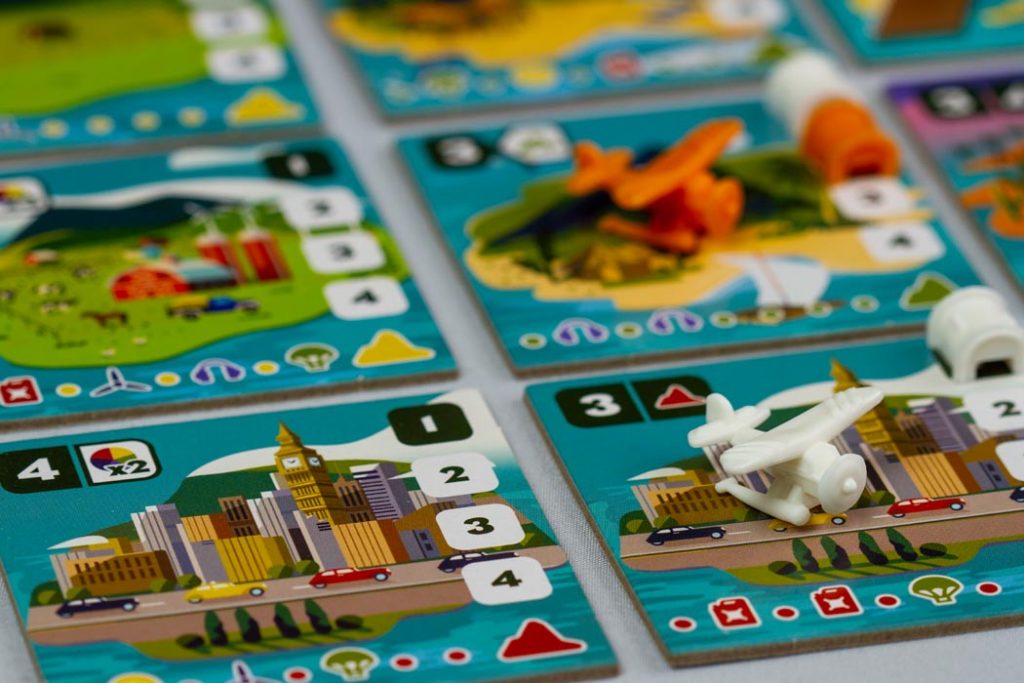 #03 | Wayfinders
Wayfinders makes the list of board games like Parks because of the resource management and interesting path mechanics. Just like the movement of players through the parks effects where you can go and how you can move, utilizing the paths of other players to hop across different islands and build airbases brings interesting flavor to an already good looking empire building game.
Starting in the center of a 5×5 tile grid, players find themselves as intrepid explorers racing to chart new paths through the skies. You have two actions to take. Make an investment in future resources with one of your workers or build your empire while moving from tile to tile and placing airstrips on islands that are going to give you big scoring bonuses. For 2 – 4 players, games run approximately 25 – 45 minutes.
---
#02 | Lewis and Clark
Lewis and Clark makes the list of board games like Parks because it is also a rich worker placement game that is about making a long path through with ever changing constraints. There is a bit more urgency here, explorers need to race from Missouri to Oregon to be the first to discover new lands. And as a nice touch, nature is also deeply involved.
This is an exploration game where players are faced with a constant dilemma: play a card or sacrifice it. During the game, you acquire character cards that enlarge your hand, building a crew that gives you more options but also more need to be optimized as he will. This new "handbuilding" mechanism fits strongly with the historical background of this tale. For 1 – 5 players, games last about 2 hours.
---
#01 | Tokaido
Tokaido takes the top spot on the list of board games like Parks because they are both games that have you moving along a track with the goal of appreciating the beauty around you on your journey. You do not have the worker placement component per say, but the movement of your pieces along a track, in any way you want as long as it is forward, mimics much of the resource management choices you make in Parks.
Each player is a traveler crossing the "East sea road", one of the most magnificent roads of Japan. While traveling, you will meet people, taste fine meals, collect beautiful items, discover great panoramas, and visit temples and wild places but at the end of the day, when everyone has arrived at the end of the road you'll have to be the most initiated traveler – which means that you'll have to be the one who discovered the most interesting and varied things. For 2 – 5 players, games go for about 45 minutes.
---
---
Do you agree with this list of board games like Parks!? Leave your thoughts in the comments below or on our BGH Facebook Page.