Continue if you are looking for games like Scrawl and are curious about what similar games to play next. Someone starts out with a phrase and draws it, the idea is that the clues you start with are very loaded and bound to create mishaps and plenty of smiles. It goes all the way around the circle until it gets back to you. Points are awarded for the most disastrous doodles and godawful guesses.
To determine this list we broke down Scrawl to what it is. This is the classic game of Telephone mashed up with a drawing and guessing game. There are several of these but this one promotes more adult game play and promises plenty of funny miscommunications. If you are looking for something similar, you have come to the right place. We took all this into consideration and came up with this list of the 5 board games like Scrawl.
---
#05 | Pictionary
Pictionary makes the list of board games like Scrawl because it is the master drawing and guessing game. You lose the telephone nature of Scrawl, but if the drawing component is the part of the game you like, you cannot go wrong with a classic that has been delighting audiences for decades.
Clues are given and one player on a team at any given time must convey that clue through drawing. Players gain an edge if they have a good imagination when guessing, empathy for their teammates, and/or a general ability to communicate in restricted circumstances. A board is provided, just to keep score on, which focuses on the competition. For 3 – 16 players, games last roughly 90 minutes.
---
#04 | A Fake Artist Goes To New York
A Fake Artist Goes To New York makes the list of board games like Scrawl because it is a drawing and guessing game with a cool communication twist. This is a bit more of a deduction game because you need to figure out who the fake artist is, but in both titles, being able to preoperly interpret the information you are given is key.
Players take turns being the Question Master, whose role is to set a category, write a word within that category on dry erase cards, and hand those out to other players as artists. At the same time, one player will have only an "X" written on his card: they are the fake artist. Players will then go around the table twice, drawing one contiguous stroke each on a paper to draw the word established by the Question Master, then guess who the fake artist is. For 5 – 10 players, games last about 20 minutes.
---
---
#03 | Duplik
Duplik makes the list of board games like Scrawl because it is a lovely marriage of drawing and interpreting storytelling. This has a different subject matter, given its more family friendly nature, but the funny interpretations making the game exciting is what both titles have in common.
In each round, one player (the Art Director) describes a unique and utterly bizarre image while the other players (the Artists) attempt to draw the image based solely on the Art Director's description. Once time is up, Artists trade drawings and the ten hidden criteria for the image are uncovered. It's up to each Artist to decide whether the drawing he or she is judging meets the criteria and receives points. For 3 – 10 players, games run about 45 minutes.
---
#02 | Sketchy Tales Disney
Sketchy Tales Disney makes the list of board games like Scrawl because it uses the same Telephone meets drawing and interpreting game mechanic. The core gameplay is the same, but given the more family-friendly, Disney universe nature of this game, the outcomes can be quite different.
This is a drawing and guessing game full of Disney magic and it plays like Telephone. You each begin your story with a Disney character doing something a little unusual. One player starts a chain of drawing something, which leads to clue giving and more drawing. After a long string, funny stories and mishaps are told. For 4 – 8 players, games run a quick 20 minutes each.
---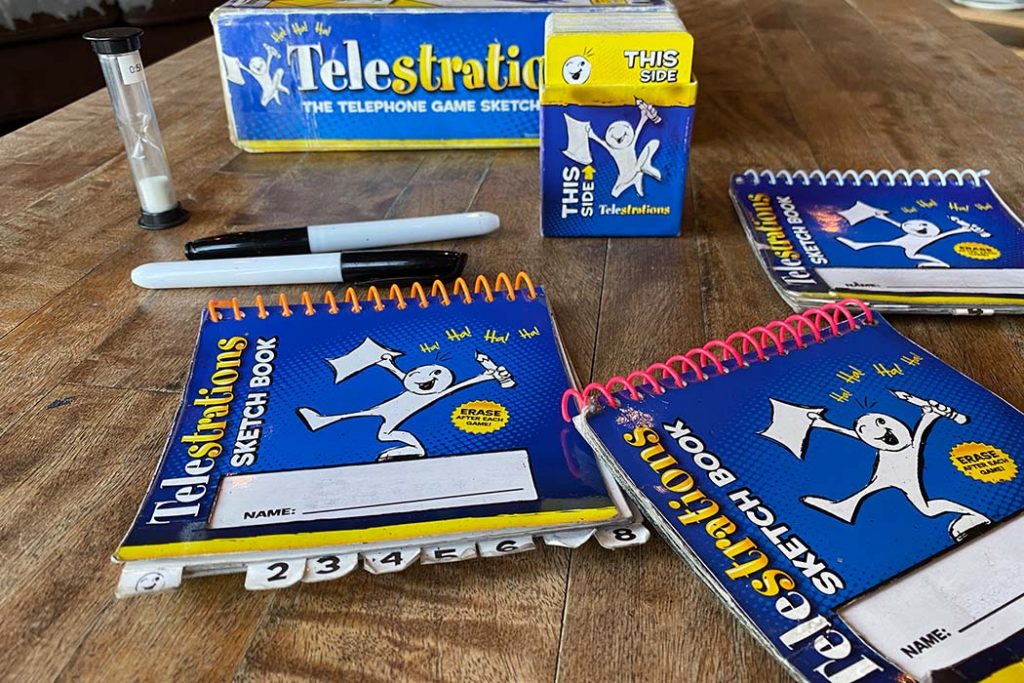 #01 | Telestrations
Telestrations takes the top spot on the list of board games like Scrawl because they are basically the same thing. Scrawl is more positioned as an adult game where there is bound to be some hilarious mis interpretations while Telestrations is a more straight forward version of that.
Each player begins by sketching a word dictated by the roll of a die. Time is limited by the old fashioned sand timer. When time is up all players, all at the same time, pass their sketch to the next player, who must guess what's been drawn. Players then simultaneously pass their guess — which hopefully matches the original word — to the next player who must try to draw the word they see — and so on. For 4 – 8 players, games last about 30 minutes.
---
---
Do you agree with this list of board games like Scrawl!? Leave your thoughts in the comments below or on our BGH Facebook Page.