Continue if you are looking for games like ShipShape and are curious about what similar games to play next. Players each control a ship. Over the course of three voyages (rounds), you bid using numbered crew cards to claim unique crate tiles off the central stack. Fill your hold with gold, cannons, and contraband and cover up what you don't want. At the end of each voyage, score coins by comparing your holds with everyone else, looking only at what is visible in your hold. The highest score wins.
To determine this list we broke down ShipShape to what it is. So many puzzle games use the tetris shape pieces but this is the opposite, the holes within square tiles are the shapes. You are placing tiles within your own personal space to form a constructed tower that is going to give you the most points, but then there is also a separate interactive drafting component to determine order. If you are looking for something similar, you have come to the right place. We took all this into consideration and came up with this list of the 5 board games like ShipShape.
---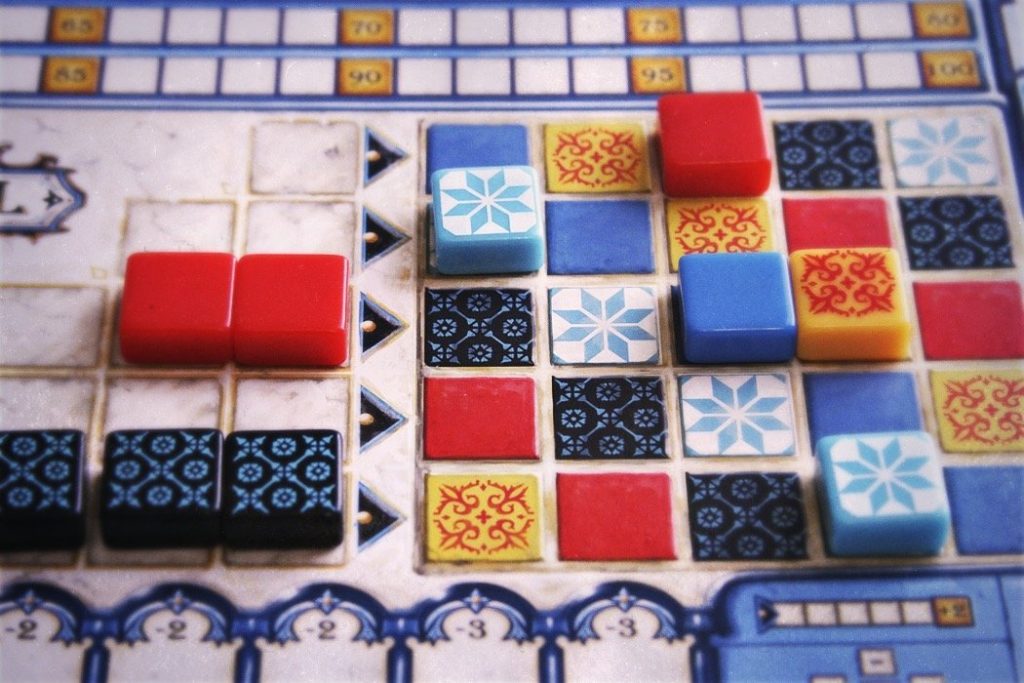 #05 | Azul
Azul makes the list of board games like ShipShape because it is a top tier abstract strategy game that is part draft for position and part personal puzzle builder. This doesn't have the spacial stacking of tetris polycube shape tiles to worry about, but you still need to construct elaborate patterns to get the big points.
The game is about helping the king decorate with Portuguese tiles. Azul is a well crafted set collection and pattern building game. You draft sets of tiles against other players in order to create strategic clusters that are going to get you big points. You need to strategically fill rows with groupings of colors in order to move them into your final square grid in order to score. For 2 – 4 players, games run about 45 minutes.
---
#04 | Kodama: The Tree Spirits
Kodama The Tree Spirits makes the list of board games like ShipShape because it is an abstract strategy game with layering. Through interesting tableau building you have to build trees out of cards to make your forest spirit friends happy. How much you can think ahead and what shows at the end is what decides the final score and ultimate winner.
Over three growing seasons, you must cultivate trees with the right mix of flowers, insects, and branch arrangements to make your Kodama as happy as possible. Grow your tree by placing cards in smart arrangements, being careful to leave room for future growth. At the end of each season, one "Kodama" will award you points for how well your tree suits its needs. With wonderful artwork and innovative mechanics, Kodama is an inTREEguing game for the whole family. For 2 – 5 players, games run about 30 minutes.
---
---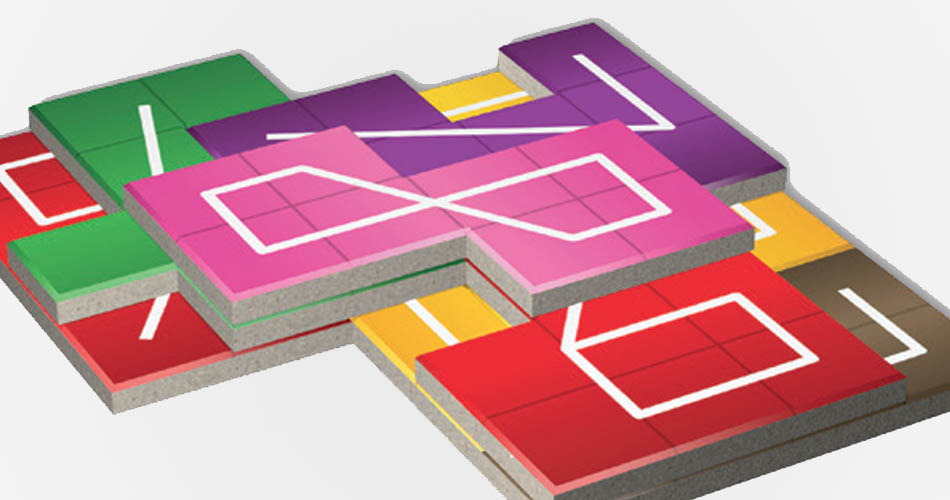 #03 | NMBR 9
NMBR makes the list of board games like ShipShape because it is a personal tableau stacking abstract strategy game. Everyone gets the same tile to work with each turn, so there is no competition there, but the similarities lie in the stacking puzzle. Not too many games have you worrying about the three-dimensional space when building a puzzle in an interesting way and that is something these games have in common.
You play with cards and tiles numbered 0-9. Each number tile is composed of squares in some arrangement. To start, draw and reveal the first card. Players then take a number tile matching the card and place it on the table. This continues, adding each new tile to the tiles that they already have in play. The new tile must touch at least one other tile on the same level along one side of a square. And this is done in 3D. For 1 – 4 players, games run a quick 20 minutes.
---
#02 | Indian Summer
Indian Summer makes the list of board games like ShipShape because it is a tile arrangement puzzle game that has you arranging and combing tiles for big points. You will need to be the first to fill your board with leaves of all shapes, aided by bonus powers to be crowned champion.
Before winter makes its appearance, a particularly warm fall bathes the forest in a golden shimmer. During the Indian Summer, New England blossoms one last time. During the game, puzzle tiles with holes are placed on individual forest boards to cover up treasures. When players get their hands on these, they gain more options and an edge over their opponents. All that counts in the end is to be the first to cover your forest floor completely with leaves. For 1 – 4 players, games go for 15 – 60 minutes.
---
#01 | Nova Luna
Nova Luna makes the list of board games like ShipShape because it is multiple layers of things wrapped up in a great abstract strategy game. Here you need draft tiles to complete adjacency combos. You have to plan your future anew, developing a new strategy to cope with what the moon wheel has to offer you.
On each turn, you have to decide which new tile from the moon wheel to place in front of you. Each tile has its own task that you will need to complete. In order to do so, you need to place tiles of the correct color adjacent to the task you want to complete, which then triggers new tasks. Each time a task is solved, you may place one of your markers on it and first to place all your markers wins. For 1 – 4 players, games run 30 – 60 minutes.
---
---
Do you agree with this list of board games like ShipShape!? Leave your thoughts in the comments below or on our BGH Facebook Page.