Continue if you are looking for games like Sketchy Tales Disney and are curious about what similar games to play next. This is a drawing and guessing game full of Disney magic and it plays like Telephone. You each begin your story with a Disney character doing something a little unusual. One player starts a chain of drawing something, which leads to clue giving and more drawing. After a long string, funny stories and mishaps are told.
To determine this list we broke down Sketchy Tales Disney to what it is. This is a drawing game that puts into place communication hurdles that are going to make for many laugh out loud situations. Drawing is part of the battle but the other half is knowing your fellow players. If you are looking for something similar, you have come to the right place. We took all this into consideration and came up with this list of the 5 board games like Sketchy Tales Disney.
---
#05 | Doodle Quest
Doodle Quest makes the list of games like Sketchy Tales Disney because It is a mixture of drawing challenges mixed with interesting things to figure out. The similarities end there as this game is more strategy than party. The communication hurdles are not there but you need to tap on many of the same skills and this is certainly one that the Disney crowd will enjoy.
Dive under the deep blue sea where you'll find fish to gobble, treasure to discover, and divers to save. In this line-drawing game, players study challenging quest cards, then try to replicate the depicted path(s) on their separate transparent doodle sheets. Once finished, the players place their doodle sheets on top of the quest card to see whether the drawings line up. For 1 – 4 players, games last about 15 minutes.
---
#04 | Pictionary
At the end of the day, you have to give it up for the classic. Pictionary makes the list of games like Sketchy Tales Disney because of how deep the options and customization goes. There are different editions and versions that will allow you to play the type of game you want. You completely lose the whole telephone and miscommunication side of things, but if the drawing and guessing is what you like, this is a solid choice.
Clues are given and one player on a team at any given time must convey that clue through drawing. Players gain an edge if they have a good imagination when guessing, empathy for their teammates, and/or a general ability to communicate in restricted circumstances. A board is provided, just to keep score on, which focuses the competition. For 3 – 16 players, games last roughly 90 minutes.
---
---
#03 | Duplik
Duplik makes the list of games like Sketchy Tales Disney because it is a drawing game that tacks on interesting limitations. It is a smart game but at the end of the day it is a funny, fast-paced, family and party game that tests each player's ability to describe, draw, and evaluate wacky images.
In each round, one player (the Art Director) describes a unique and utterly bizarre image while the other players (the Artists) attempt to draw the image based solely on the Art Director's description. Once time is up, Artists trade drawings and the ten hidden criteria for the image are uncovered. It's up to each Artist to decide whether the drawing he or she is judging meets the criteria and receives points. For 3 – 10 players, games run about 45 minutes.
---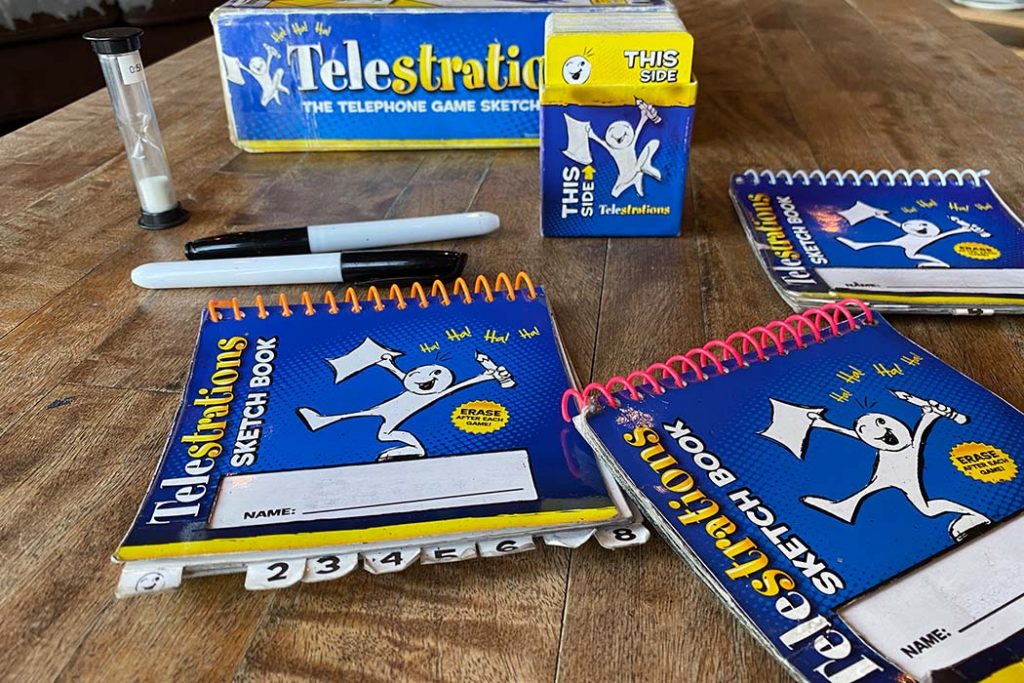 #02 | Telestrations
Telestrations makes the list of games like Sketchy Tales Disney because it is also a party drawing game that has elements of the classic party game "telephone". This game is a little closer to Pictionary than Sketchy Tales but you are still drawing clues and then you are interpreting what is seen. Things get more distorted and hilarious as time goes on.
Each player begins by sketching a word dictated by the roll of a die. Time is limited by the old fashioned sand timer. When time is up all players, all at the same time, pass their sketch to the next player, who must guess what's been drawn. Players then simultaneously pass their guess — which hopefully matches the original word — to the next player who must try to draw the word they see — and so on. For 4 – 8 players, games last about 30 minutes.
---
#01 | Scrawl
Scrawl, from the same publisher, makes the list of games like Sketchy Tales Disney because it follows the very same model of communication limits and having to deal with the, through interesting drawing challenges. You start with a phrase, doodle it and pass it on. It is the same type of game but because the phrases are a little more suggestive and adult, it makes for a different experience.
The game is part drawing and guessing and part classic party game Telephone. Someone starts out with a phrase and draws it, the idea is that the clues you start with are very loaded and bound to create mishaps and plenty of smiles. It goes all the way around the circle until it gets back to you. Points are awarded for the most disastrous doodles and godawful guesses. For 4 – 8 players, games run roughly 30 minutes.
---
---
Do you agree with this list of board games like Sketchy Tales Disney!? Leave your thoughts in the comments below or on our BGH Facebook Page.