Continue if you are looking for games like Suburbia and are curious about what similar games to play next. Suburbia blends many economical game mechanics to create a wonderful city building game. You have your own town that you need to fill with buildings that you draft from available tiles and against other players.
To determine this list we broke down Suburbia to what it is. This game is an icon, it is a drafting, tile laying, set collection, build something from nothing in your own personal area game. If you are looking for something similar, you have come to the right place. We took all this into consideration and came up with this list of the 5 board games like Suburbia.
---
#05 | Lisboa
Lisboa makes the list of board games like Suburbia because it is another great drafting tile laying. It is more area control and fight amongst the others than set collection within your own area, but the synergies of building up a city are there.
This is a game about the reconstruction of Lisboa after the great earthquake of 1755. During the game, players schedule hearings to get character favors, such as commerce, construction, and openings. Players need to manage influence, construction licenses, store permits, church power, workers and money, with the workers' cost being dependent on the prestige of the players. For 1 – 4 players, games last 1 – 2 hours.
---
#04 | Kingdomino
Kingdomino makes the list of games like Suburbia because it is all about drafting tiles from a communal area and bringing them into your personal area to put them together in groupings that are going to get you big points. This is a bit simpler in mechanics but just as strategic. The game even won a coveted Spiel des Jahres award for its greatness.
Round after round, four two-panel tiles are placed in the center to fight over. These have a combination of 6 different terrain types and crown symbols. You have to make a 5×5 grid and you get points by taking a grouping of terrain and multiplying by the total crowns on it. So your goal is to put the tiles that you draft together to strategically get the most points. For 2 – 4 players, games run 15 – 20 minutes.
---
---
#03 | Between Two Cities
Between Two Cities makes the list of board games like Suburbia because it is also a partnership-driven tile-drafting game in which each tile represents part of a city: factory, shop, park, landmarks, etc. This is also the closest game on this list to the more modern theme, most good games in this genre are from an older or more fantasy-driven time.
You work with the player on your left to design the heart of one city, and with the player on your right to design the heart of another city. On each turn you select two tiles from hand, reveal them, then work with your partners separately to place one of those tiles into each of your two cities before passing the remaining hand of tiles around the table. For 1 – 7 players, games run about 25 minutes.
---
#02 | Castles of Mad King Ludwig
Castles of Mad King Ludwig makes the list of games like Suburbia because you need to draft pieces of your empire from the communal center and bring them into your personal tableau. Just like how tiles have many effects that trigger depending on where they are in relation to others in Suburbia, Ludwig has the same thing.
You are tasked with building an amazing, extravagant castle for King Ludwig II of Bavaria…one room at a time. You see, the King loves castles, having built Neuschwanstein (the castle that inspired the Disney theme park castles) and others, but now he's commissioned you to build the biggest, best castle ever. For 1 – 4 players, games last about 90 minutes each.
---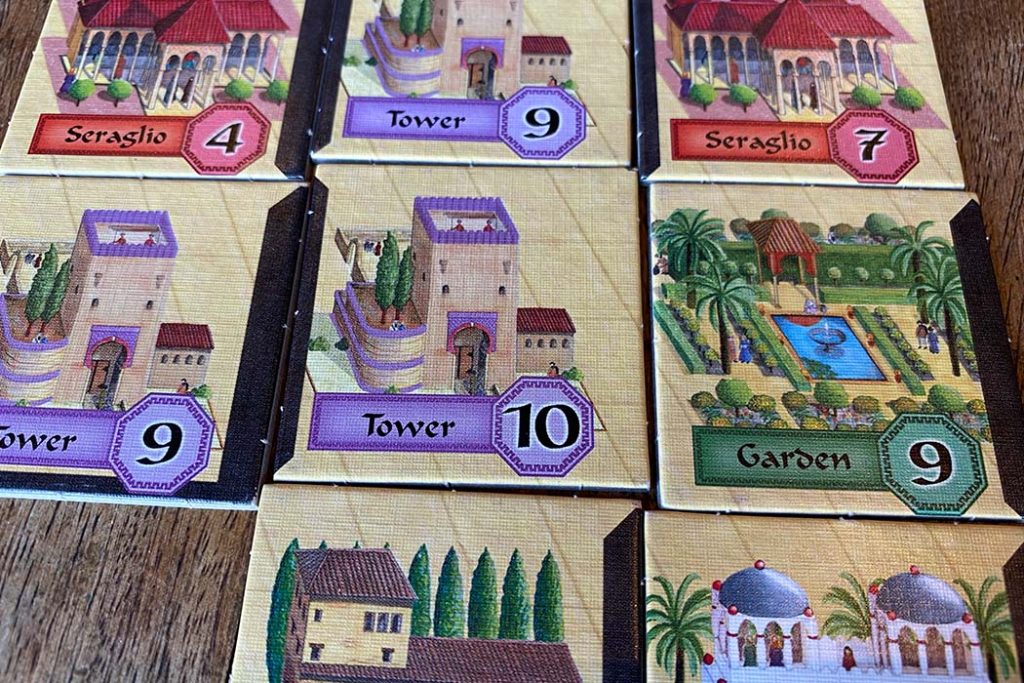 #01 | Alhambra
Alahambra makes the list of the board games like Suburbia because it is a drafting and tile placement game about building up your personal home to score the highest points. There are restrictions and bonuses that you need to be mindful of along the way.
The best master builders in the whole of Europe and Arabia want to demonstrate their skill. Hire the right people and have the right mix of the four monies. Because no matter whether they are stonemasons from the north or horticulturalists from the south, they all want a proper wage and insist on their "native" currency. With their help towers can be constructed, gardens laid out, pavilions and arcades erected and seraglios and chambers built. For 2 – 6 players, games last about 45 – 60 minutes.
---
---
Do you agree with this list of board games like Suburbia!? Leave your thoughts in the comments below or on our BGH Facebook Page.