December 15, 2021 – After the initial Kickstarter campaign, Root The RPG is Now Available in PDF and Preorder. There is the core rulebook and then there is the supplement Travelers & Outsiders and the Clearing book that contains the Hookfoot Bog, Sixtoe Stand, Limmery Post and Coolclaw Mine.
The digital, PDF version, is available from Drivethru RPG, the very popular digital RPG store. You can get it there right now at $49.99 for the full bundle, or individually with the core book at $24.99, Travelors & Outsiders at $19.99 and Clearing Book at $9.99.
Or you can preorder the physical materials from Magpie Games online store with an estimated ship timing of Q1 2022. The core rulebook / T&O / Clearing will run you $39.99 / $39.99 / $19.99 + shipping respectively. With this method, there are a bunch of other things to order like the Deck of Denizens ($19.99), Deck of Equipment ($19.99), Faction Dice Set ($24.99), GM Screen & Campaign Notepads (24.99), Clearing Map Pack ($14.99), Deluxe Book Bundle ($99.99) and the Master Deluxe Set ($224.99).
This massive package originally started out as a Kickstarter. 6,495 backers pledged $602,022 to help bring this project to life back in September of 2019. Now, people who want to get in on the fun can start playing. Based on the Root: A Game of Woodland Might & Right board game and officially licensed by Leder Games, Root: The RPG brings the tales of the Woodland to your table!
Root: The RPG Core Book contains:
Nine unique playbooks, each built to help you create a vagabond whose exploits will echo in the Woodland for generations to come.
Easy-to-follow rules for all manner of fantasy adventure, including roguish feats, reputation and travel mechanics, and more. 
Innovative mechanics for managing equipment, weapons, and combat that make your choices matter both tactically and narratively.
Detailed instructions for running Root: The RPG—crafting combats, managing factions, and more—alongside a full clearing, Gelilah's Grove.
Travelers & Outsiders is a supplement that expands the core game to include:
Ten new playbooks, expanding the types of vagabonds you can play to include pirates, raiders, scholars, heretics, raconteurs, and more.
Four new expansion factions—The Riverfolk Company, Lizard Cult, Grand Duchy, and Corvid Conspiracy—for you to add to any campaign.
Dozens of expanded moves and tags, including weapons skills, roguish feats, natures, drives, connections, equipment tags, and pre-made gear.
Robust faction turn mechanics that bring the setting to life as factions seize holdings, build structures, and plot mischief across the Woodland.
Two new clearings—Heartwood and Sundew Bend—that focus on adventures involving the new expansion factions and their conflicts.
In addition to these wonderful books, they also have the following accessories available for preorder:
Deluxe Core Set: Both the Root RPG Core Book and Travelers & Outsiders in a deluxe slipcase with exclusive covers!
Denizens Deck: A 55-card deck of Woodland NPCs from every Woodland faction to use in your game!
Equipment Deck: A 55-card deck of weapons and other gear with special traits, weapons stats, and new art!
Faction Dice Set: A pack of engraved dice with one pair for each of the seven different Woodland factions!
GM Screens and Notepads: An accessory pack with a trifold GM screen and two custom notepads!
The Clearing Booklet: A saddle-stitched booklet with four additional clearings! 
Clearing Maps: 8.5" X 11" laminated Woodland maps to set up your own version of the Woodland!
---
---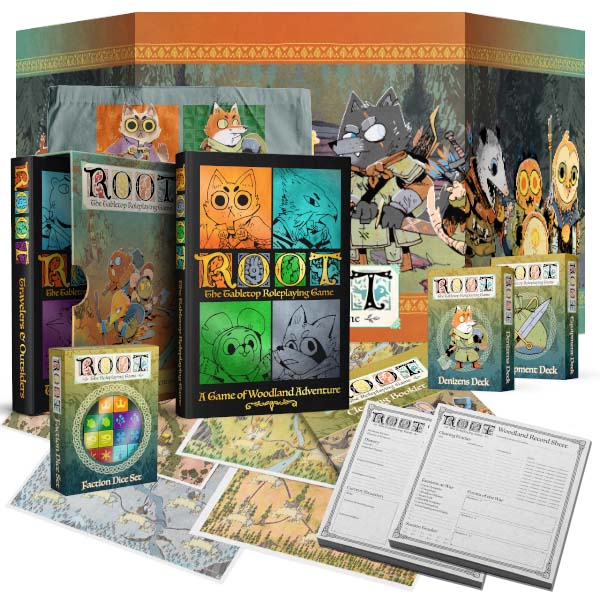 About Root the RPG
The Marquise de Cat led her armies to victory over many of the clearings, but the Eyrie Dynasties rise again to oppose her. Meanwhile, the mice, rabbits, and foxes of the Woodland do not sit idly by – the Woodland Alliance, a homegrown rebellion, has emerged, promising to free the Woodland from any oppressors. 

In the midst of this war, you and your friends – vagabonds all – travel between the clearings, taking on jobs no one else can or will do. You choose whom you serve, if anyone… but everyone knows you may tip the balance of the War. 

Root: The Roleplaying Game is the officially-licensed tabletop RPG based on the award-winning Root: A Game of Woodland Might and Right board game by Leder Games. In Root: The RPG, you play vagabonds, individual outlaws whose adventures and alliances define the Woodland forever. 

Root: The RPG is a fantasy adventure for 3 to six players of woodland creatures fighting for money, justice, and freedom from powers far greater than them. Fame and glory await! 
Source: https://www.magpiegames.com/blogs/news/root-the-rpg-now-available-for-pdf-and-preorder
---
Will you be ordering now that Root The RPG is Now Available in PDF and Preorder? Let us know in the comments below!