April 6, 2022 – Publisher Plaid Hats Games' Summoner War Online reveals big tournament and new factions. The online version of this title was originally released in August of 2021 and has been growing in strength ever since.
---
NEW FACTIONS
The Cloaks and The Skyspear Avians are now available to play exclusively on Summoner Wars Online! Take to the air and dive down on your enemies with Ava and her powerful flock of Avians, or use advanced technology to sneak across the battlefield with Vlox and his team of stealthy Cloaks.
Access to these two new exciting factions is available to Full and Digital Only Subscribers to Summoner Wars Second Edition, or digital faction decks can be purchased separately for $3.95/deck. Full Subscribers enjoy FREE access to Summoner Wars Online as soon as they sign up to receive physical copies of new factions as they release, approximately every 3-4 months. Digital Only subscribers have access to all digital factions available on Summoner Wars Online for the low cost of $2.95 month!
Previews for The Cloaks and The Skyspear Avians can be found HERE.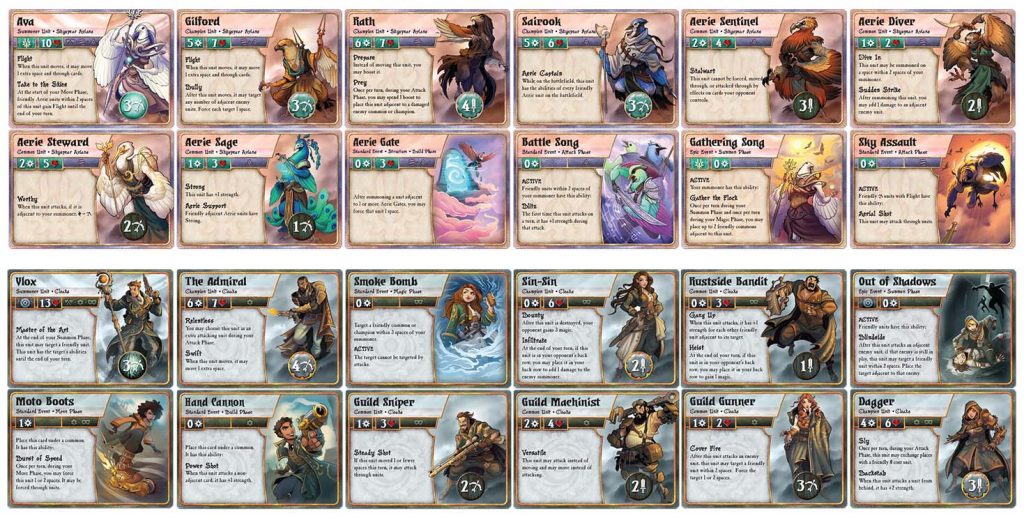 Sign up as a Full Subscriber today to start playing these factions online immediately AND receive physical copies of The Cloaks and The Skyspear Avians later this month! Estimated arrival time for these factions is April 18th!
---
TOURNAMENT
April 22nd, 2022
Start time 10 am ET
Maximum Participants: 108
Game Time Limit: 3 days per player
Players will select 5 base decks to play during the tournament. Players must either be digital or full subscribers, OR own all digital decks they sign up with. (There is no other cost to the tournament.)
In Round 1, players will be divided into 18 pools of 6 players (fewer in some pools if there are fewer than 108 participants), playing all 5 of their pool-mates simultaneously in 3-days-per-player games. Match-ups will be determined randomly, with priority given to avoiding mirror matches. The top 2 players from each pool will move on.
In Round 2, there will be 6 pools of 6 players each, with the same match-up procedure. The top 2 players in each pool will again move on.
In Round 3, there will be 2 pools of 6 players each, and the same procedure will be followed. The 2 pool winners will move on to a winner-take-all finals game.
Each finalist will secretly rank all 10 factions in play order preference. If they pick the same top faction, they will both move down to the next faction, and so on, until a non-mirror match is selected. (If both players submit the same list, they will have to re-submit with a different order until their lists don't match.)
For determining pool rankings, after wins, the following tiebreakers will be implemented:
1. Head-to-head record among tied players in current round
2. Total wins in the tournament
3. Strength of victory in current round
4. Strength of victory for the entire tournament
5. Fewest number of wins in the tournament for factions played
6. Coin flip
For each step, if at least 1 player is eliminated, the remaining players revert to step 1.
Overall Winner will receive a $100 gift certificate to the Plaid Hat Games web-store. Runner-up will receive a $60 gift certificate to the Plaid Hat Games web-store.
Sign up for the tournament today! Last day to register is Tuesday, April 15th @5 pm ET.
Source: https://www.plaidhatgames.com/news/2022/04/06/summoner-wars-online-tournament-and-new-factions/
---
What do you think of the news Summoner Wars Online Reveals Big Tournament and New Factions? Do you play? Let us know in the comments below!