The latest entry in our interview series Why You Should Back: Steven Rhodes Games Vol. 2 on Kickstarter. We spoke with creators Cryptozoic Entertainment and got information about their latest launch. This series of titles, based on the art of an icon, touches on some very interesting themes and game mechanics. The Kickstarter launch date is November 24, 2021. Check out the link below to go directly to The Steven Rhodes Games Vol. 2 Kickstarter page or continue on to read the interview with the creators.
---
1. How would you describe your product in a few sentences?
Steven Rhodes Games Vol. 1 and 2 are light tabletop games that are easy to teach and quick to play. Each volume features three new games introduced in successful Kickstarter campaigns. You can buy them all together or purchase them one at a time! Each game introduces players to a popular genre while providing enough hidden depth for veteran players.
2. Introduce the team bringing this to market? What is your background that brought you to launching this?
All the games are directly based on the art of Steven Rhodes, a popular artist known for his humorous retro works. Cory Jones is one of the founders of Cryptozoic and his vision helps drive these games. Lead designer Mataio Wilson has been involved in making games and launching successful Kickstarter campaigns since Ghostbusters: The Board Game back in 2017. Finally, we have a team of talented project managers and graphic designers bringing the project to life.
3. What existing games would you compare your game to?
These three new games take inspiration from popular genres that we wanted to highlight and lined up well with Steven Rhodes's art. Cryptozoology for Beginners is a drafting set collection game that some may compare to Sushi Go!, Sweetlandia, or 7 Wonders, titles we love and admire. Let's Call the Exorcist lives in the 4-8 player social deduction genre and has drawn comparisons to the mechanics of Werewolf, Don't Mess with Cthulhu, and Secret Hitler, all games we've shared raucous game nights playing. Living Well Is the Best Revenge is a twist on pub favorite Shut the Box, a 12th century dice game that invites players to take risks with sweet point-gaining abilities and devious dice manipulations.
4. What sets your game apart?
Along with the twisted art inspired by Steven Rhodes, we've made sure that Cryptozoic's Dynomite Games brand delivers products that are easy to learn and fun to master. Each game wades into deep tabletop genres with easy-to-explain rules and twists on your favorite game mechanics.
5. How can everyone be assured that they are going to get quality components and you are going to deliver on all the promises you are making?
We've completed and successfully delivered on many Kickstarter campaigns and shipped thousands of copies of our games that you'll find on the shelves of your favorite game shops. Check out our website for a catalog of our high-quality games. We've learned a lot from each game and know what to look for in card, dice, tile, box, and rulebook material.
6. Why should someone back your project?
It's super simple: If you love games that are easy to learn, have hidden depth, feature amazing art, and are totally fun, you'll love these games. So you should back the Kickstarter!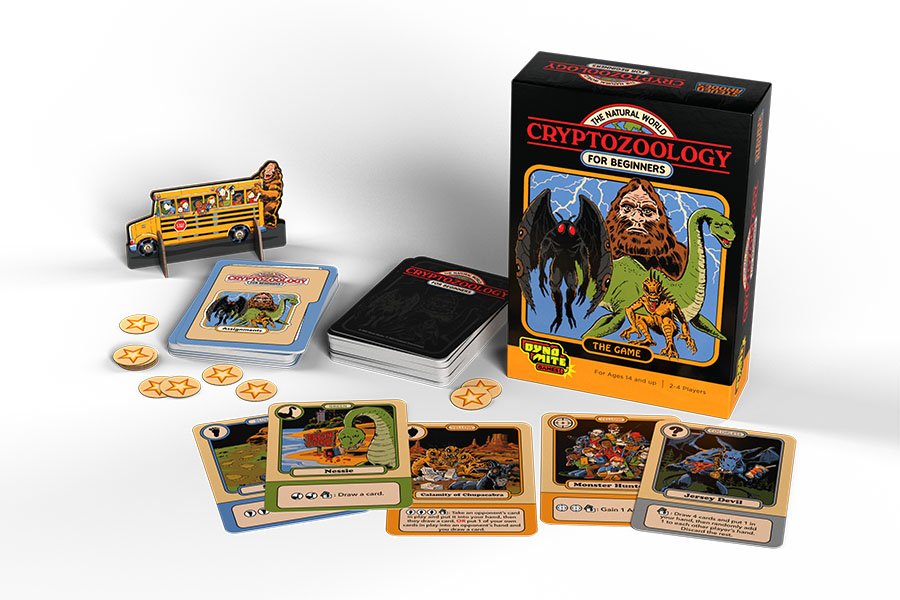 ---
Well we are satisfied!
Great insight and enthusiasm from a passionate design team. This series has tremendous style and has something to offer for gamers of all levels. It has clearly been guided by passionate hands and looks like it is going to be a top-notch product. Take a look at their Kickstarter or website for more info!
---
Have you received enough info on why you should back Steven Rhodes Games Vol. 2 on Kickstarter? Are you backing? Let us know in the comments below or on our BGH Facebook page.